HOPE - What a wonderful word this is! Everyone is in need of a message of hope! Hope is what helps us through each day. Hope is what gives us something to look forward to. Hope shines through the chaos in this sad old world bringing order, peace and rest from fear and fretting.
I was speaking to someone recently about being prepared for eternity and showing them God's way to make sure all is well with their soul when this person asked me: "Are you telling me you know these things for sure? Is it possible to really know?" I had the great joy and privilege of telling this person that it is possible to know. I'm not being presumptuous here, but I'm resting quietly upon the reputation and words of someone who cannot fail. My hope is based entirely upon the promises of God. This is all I have and this is all I need - and I might add at this point, this is all YOU need as well!
Everyone needs hope like that. There isn't a person alive who doesn't need to hear that there is a positive hope to obtain if only they would be honest enough to know their need and who to turn to.
This world and its system is heading for chaos and a multitude of people feel like they are being dragged along and utterly helpless to do anything about it. Where do we go for stability? Where do we go for comfort? Who can we trust?
I am glad to say that there is a place and a Person to go to. He is fully reliable and worthy of being trusted with all your heart. He never changes, He's always the same. He is alive and ready to be the very centre of your life if you will let Him.
As you navigate through this website you will observe that Hope shines through its overall message. There is a message of hope in every article, poem and in every song that Rest a While presets to you. So you have something reliable to feast upon when you come to visit.
Why does this little word have so much meaning?
Hope is an essential part of everyday living. Without it, all we have is a mere existence!
Hope is something everybody needs at times but so few really have! This is not all about the 'wishful thinking', 'fingers crossed', 'touch wood', type of hope, which has no foundations, and when most needed fails to comfort or ease a troubled mind. Neither is it the type that one might have for fair weather tomorrow, or a rise in the salary, or a favourable answer to a proposal of marriage. There is an element of doubt and vulnerability about this hope.
Hope that is true however, is rock solid and has foundations that are unmovable - no matter what! It comes from God, and the Bible if full of encouragements for the soul in need of something in which we can be fully confident.
Firstly if we are looking for a hope that is true with solid foundations, then we have to think 'outside the box'. We have possibly been looking in all the wrong places for something to satisfy that unrest deep within us but now it's time to 'look up'! It is time to open up the Bible and trust the words you are reading are God's words - for so they are.
"It [is] impossible for God to lie, [so] we might have a strong consolation,
who have fled for refuge to lay hold upon the hope set before us:
Which hope we have as an anchor of the soul, both sure and stedfast ..."
Hebrews 6: 18-19
The above verse tells us that 'it is impossible for God to lie', which means that the words that are contained in this precious Book are true words and worthy of your complete trust.
The Bible is telling us that we have a very great problem which will account for the emptiness that is felt without true hope: "your iniquities have separated between you and your God, and your sins have hid his face from you, that he will not hear." Isaiah 59: 2.
There's no denying it, sin is the great problem but it is the very thing for which God has the remedy. We're all in need of a refuge or a place of safety from the consequences of it. God has provided this refuge for us in the Person of His Son and the work He accomplished on the cross where He died as a substitute for hopeless people like you and me. He is our only hope that God has given whereby we might have 'an anchor for the soul, both sure and steadfast'.
There is only one way to acquire the forgiveness that God offers freely, and that is through faith alone:
"Therefore being justified by faith,
we have peace with God through our Lord Jesus Christ:
By whom also we have access by faith into this grace wherein we stand,
and rejoice in hope of the glory of God."
Romans 5: 1-2.
When He sees in your heart true repentance and a humble confession, He has everything to give to you in the Person of His Son. Could there be anything more precious to the soul than being at peace with God?
This is only the very beginning of things most wonderful. There are a multitude of encouragements and wonderful messages of Hope there are for you in the Bible, the living Word of God to help see you through the ups and downs of daily living.
Will your anchor hold in the storms of life,
When the clouds unfold their wings of strife?
When the strong tides lift, and the cables strain,
Will your anchor drift or firm remain?
We have an anchor that keeps the soul
Steadfast and sure while the billows roll,
Fastened to the Rock which cannot move,
Grounded firm and deep in the Saviour's love.
Priscilla Jane Owens. (1829 - 1907)
Here are some very powerful words spoken by the Lord Jesus Himself:
"Whosoever cometh to me, and heareth my sayings, and doeth them,
I will shew you to whom he is like:
He is like a man which built an house, and digged deep, and laid the foundation on a rock:
and when the flood arose, the stream beat vehemently upon that house,
and could not shake it: for it was founded upon a rock."
Luke 6: 47-48
It is important to understand that although hope does not protect us from knowing the joys and sorrows of human life, it does give to us a depth of meaning to our lives that would otherwise be a hollow existence.
Rains fall, floods rise, winds blow and streams can beat hard upon all lives including the lives of those who are trusting in the Lord Jesus. However, the difference is that those whose faith is built on Christ have a sure foundation that circumstances cannot move.
This cannot be better expressed than the words of this wonderful Hymn -
My hope is built on nothing less than Jesus' blood and righteousness;
I dare not trust the sweetest frame, but wholly lean on Jesus' name.
On Christ, the solid Rock, I stand; all other ground is sinking sand.
When darkness veils His lovely face, I rest on His unchanging grace;
In every high and stormy gale my anchor holds within the veil.
On Christ, the solid Rock, I stand; all other ground is sinking sand.
His oath, His covenant, and blood support me in the whelming flood;
When every earthly prop gives way, He then is all my Hope and Stay.
On Christ, the solid Rock, I stand; all other ground is sinking sand.
When He shall come with trumpet sound, Oh, may I then in Him be found,
Clothed in His righteousness alone, faultless to stand before the throne!
On Christ, the solid Rock, I stand; all other ground is sinking sand.
by Edward Mote. (1797-1874)
The Bible is full of different aspects of the believer's security all wrapped up in this wonderful word HOPE. Here are a few to muse upon: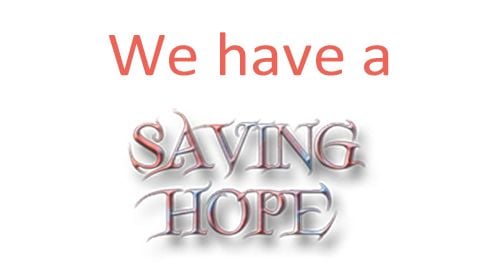 "For we are saved by hope: but hope that is seen is not hope:
for what a man seeth, why doth he yet hope for?
But if we hope for that we see not, then do we with patience wait for it."
Romans 8: 24-25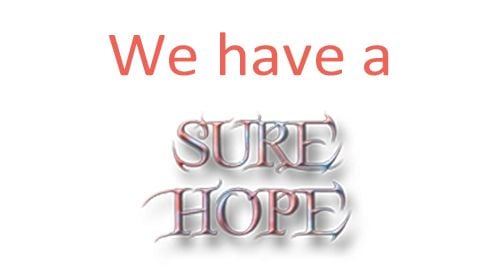 "... It is impossible for God to lie, we might have a strong consolation,
who have fled for refuge to lay hold upon the hope set before us:
Which hope we have as an anchor of the soul,
both sure and stedfast, and which entereth into that within the veil"
Hebrews 6: 18-19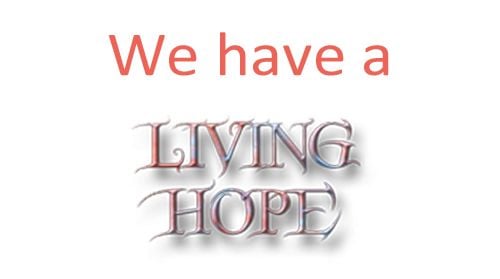 "Blessed be the God and Father of our Lord Jesus Christ,
which according to his abundant mercy hath begotten us again
unto a lively hope by the resurrection of Jesus Christ from the dead,
To an inheritance incorruptible, and undefiled, and that fadeth not away,
reserved in heaven for you."
1 Peter 1: 3-4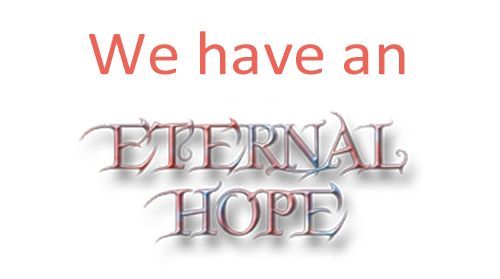 "... [The] hope of eternal life, which God, that cannot lie,
promised before the world began ..."
Titus 1: 2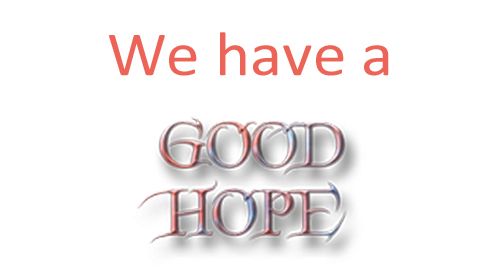 "Now our Lord Jesus Christ himself, and God, even our Father, which hath loved us,
and hath given us everlasting consolation and good hope through grace,
Comfort your hearts, and stablish you in every good word and work."
2 Thessalonians 2: 16-17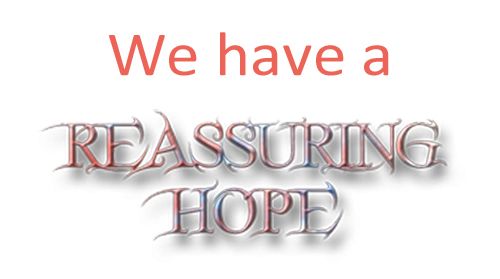 "... Whatsoever things were written aforetime were written for our learning,
that we through patience and comfort of the scriptures might have hope."
Romans 15: 4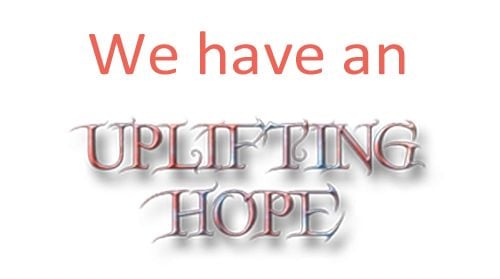 "... The mystery which hath been hid from ages and from generations,
but now is made manifest to his saints:
To whom God would make known what is the riches of the glory of this mystery
among the Gentiles; which is Christ in you, the hope of glory ..."
Colossians 1: 26-27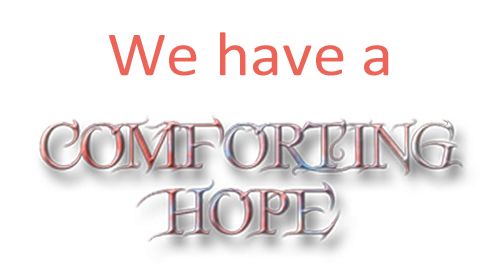 "... I would not have you to be ignorant, brethren, concerning them which are asleep,
that ye sorrow not, even as others which have no hope.
For if we believe that Jesus died and rose again,
even so them also which sleep in Jesus will God bring with him.
For this we say unto you by the word of the Lord, that we which are alive and remain
unto the coming of the Lord shall not prevent them which are asleep.
For the Lord himself shall descend from heaven with a shout,
with the voice of the archangel, and with the trump of God:
and the dead in Christ shall rise first: Then we which are alive and remain
shall be caught up together with them in the clouds, to meet the Lord in the air:
and so shall we ever be with the Lord.
Wherefore comfort one another with these words."
1 Thessalonians 4: 13-18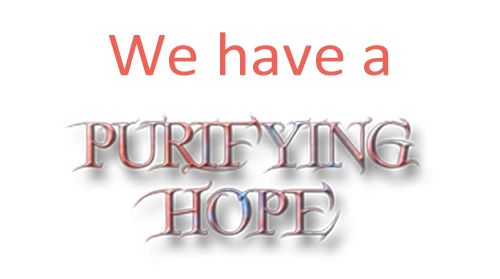 "Beloved, now are we the sons of God, and it doth not yet appear what we shall be:
but we know that, when he shall appear, we shall be like him; for we shall see him as he is.
And every man that hath this hope in him purifieth himself, even as he is pure."
1 John 3: 2-3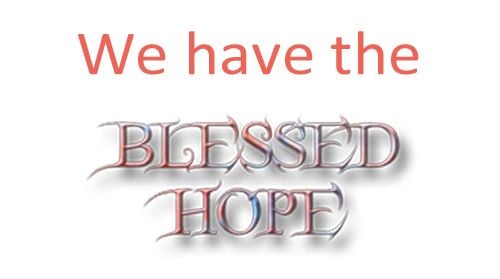 "Looking for that blessed hope,
and the glorious appearing of the great God and our Saviour Jesus Christ;
Who gave himself for us, that he might redeem us from all iniquity,
and purify unto himself a peculiar people, zealous of good works."
Titus 2: 13-14