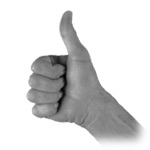 Of course, I now had an instrument with which to accompany me while I sung my song for Christmas. After carefully composing the tune and writing the lyrics I was ready not only for this special event but I was waiting for a clear answer to my earnest prayers at that time. I knew what the Lord wanted me to do but I was fearful of taking that step. I felt that I needed some kind of confirmation. I asked the Lord to help me to see clearly what I must do or to put to rest once for all the ideas that I have believed to be His will because the burden was becoming almost too great for me to bear. The Carol service would provide me with a clear "yes" or "no", and I would have to abide with the answer I received.
With our little Gospel Hall all seasonally decorated, my keyboard all set up and ready and everyone seated, there was no turning back. Soon the moment had arrived and the lights were dimmed as I stood before a sea of faces. I pressed the button to start the music I had saved to my keyboard computer and sung with all my heart a song I had written especially for this occasion called "Glory in His Face".
From where I stood I could see the reaction of the folks before me, and my heart was encouraged, warmed and humbled all at the same time. It was hard not to cry as I felt for the first time in my life that I was actually doing something that was touching the very heart of God!
If I could only see Him, I would tell Him how much I love Him.
If only I had an alabaster box of precious ointment with which I could anoint His sacred body like dear Mary of Bethany did just six days before her Lord was crucified.
But I could not see Him and had nothing I could give Him other than perhaps the ability to minister to souls in need. Then the penny dropped – my full enjoyment of these precious words now became the voice of affirmation to me there and then:
"Lord, when saw we thee an hungred, and fed thee? or thirsty, and gave thee drink?
When saw we thee a stranger, and took thee in? or naked, and clothed thee?
Or when saw we thee sick, or in prison, and came unto thee?
And the King shall answer and say unto them,
Verily I say unto you,
Inasmuch as ye have done it unto one of the least of these my brethren,
ye have done it unto me."
Matthew 25: 37-40
Though I could not see Him I now knew that there was another way to reach Him. I could share all that I knew about my dear, adorable Lord and Saviour with souls who are in need. And everyone from time to time is a soul in need. By now I had accumulated a great store of thoughts, poems and songs. It was time to bring them out from their hiding place!
After the service ended, I was given several unmistakable "yes's" confirming the path I must now take. Many people suggested that I might consider making a CD! Among them was my own dear Dad, who was a little overwhelmed himself; (having never heard his 'little girl' sing before), and I told him that I was already considering that option and asked him to listen to the songs with his heart and not just with his ears, when the CD was finally completed.
Please use the chapter links below to follow the story ...