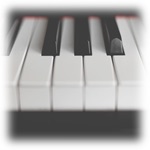 Many years had already passed and a few more would have to come and go in order to learn more precious things about the Lord. I would need be more equipped for the venture I was about to embark in.
I was a little clearer about what it was I was going to do but back then I had no idea how any of this might be accomplished. Long ago I thought how lovely it would be to make a 'record' or two! But now the time of modern technology had arrived and I was able to think more on the lines of making a CD of songs and Hymns. But I was not a musician, I knew of nobody who would be able to help me. I did not have the financial resources. In fact I had nothing and knew nothing. Where would I start?
It looked like I was going to have to do it all myself!
So if I want to make music I would need a keyboard. When I was a child we had a piano and for a while I took lessons. Unfortunately I didn't stay for long enough to learn how to read and play music properly but I did learn to love playing. I learned most of what I needed to know by ear, and would probably have to do that again.
I saved long and hard until I felt that I had enough funds to buy something worthwhile, then off to the relevant shops I went until I found an ex-demonstration 'Roland' keyboard for just half the original price. I had just enough to pay for it!
I found my way around my new 'toy' and then started to bring to life the many tunes I had made up long ago. It was a wonderful thing to hear with my ears what had been in my heart for so very long. I could now let my imagination loose and found inspiration almost daily. It wasn't an unusual thing to find myself rushing home from work to start up my keyboard because I had thought of a new tune. I have even been known to rise in the in the middle of the night to play through another that wouldn't let me rest. Once I had thought of a tune I had to establish it in my mind, so once I had played it a few times I wouldn't forget it, (day or night!)
Please use the chapter links below to follow the story ...