Perhaps Today


Scroll down for FREE Downloadable images

"He must come at sometime
He may come at anytime.
He could come PERHAPS TODAY"
Ian Jackson
~~~~~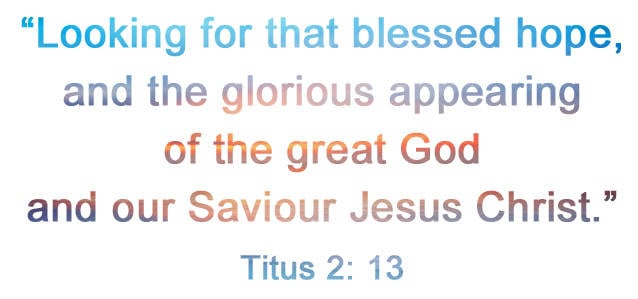 Soon

Soon - no more sorrow,
no more heartache, and no more tears.
Soon - no more darkness,
no separation, no more fears.
Soon - no more death,
no more sickness, no more pain.
Soon the conqueror of all these things
will come again.
Soon - 'tis Him we'll see,
like Him we'll be, with Him we'll stay.
Soon - no more to wait,
and it could be Perhaps Today!
AleB
~~~~~

FREE Downloads
Here's a new little feature in this area of Rest a While.
A separate page will be created for these and more downloadable images in the near future
but for the time being here's a couple that may interest you.

Enjoy :)

NEW
Wonderful Progression.

"Behold, I shew you a mystery; We shall not all sleep, but we shall all be changed,
In a moment, in the twinkling of an eye, at the last trump:
for the trumpet shall sound, and the dead shall be raised incorruptible, and we shall be changed."
1 Corinthians 15: 51-52
** We will arise (from the earth.)
These verses describe the event of our Lord's coming as what happens on the earth but no further. Those who have passed away are not going to miss out on this glorious event.

"Then we which are alive and remain shall be caught up together with them in the clouds,
to meet the Lord in the air: and so shall we ever be with the Lord.
1 Thessalonians 4: 17
** Caught up together (to meet Him in the air.)
Another aspect of the Lord's coming is described here as to what is going to happen in the air but no further. We who are alive are not going to miss out on this glorious event.

In my Father's house are many mansions:
if it were not so, I would have told you. I go to prepare a place for you.
And if I go and prepare a place for you, I will come again,
and receive you unto myself; that where I am, there ye may be also."
John 14: 2-3
** We'll be with Him (in the Father's house.)
The ultimate joy of everyone who is truly 'Born Again', that is to be with the One 'who loved us, and gave Himself for us' and see Him is all His beauty. (See Galatians 2: 20.) Christ is not going to miss out because this event is all about His pleasure. It will be His joy for us to be with Him ... at last!

What a wonderful progression! And may our appreciation of the coming of our beloved Lord increase as we see the day fast approaching. - J. Fleck.
~~~~~



Related Links

* In the Fullness of Time
The Bible doesn't say: "when the world was ready" but "in the fullness of the time"
- God's time.
* Are You Ready?
The Bible doesn't tell us when this event is going to happen.
Nobody knows, not even the Lord Jesus Himself!
* PERHAPS TODAY!
Picture album on Facebook.
A collection of tasteful pictures and an encouraging or challenging thoughts
concerning the promised coming of the Lord Jesus Christ.


* "Morning Star"
(Sample of Song from "A Whisper in the Wind" CD - Track 8)