Perhaps Today


"He must come at sometime
He may come at anytime.
He could come PERHAPS TODAY"
Ian Jackson
~~~~~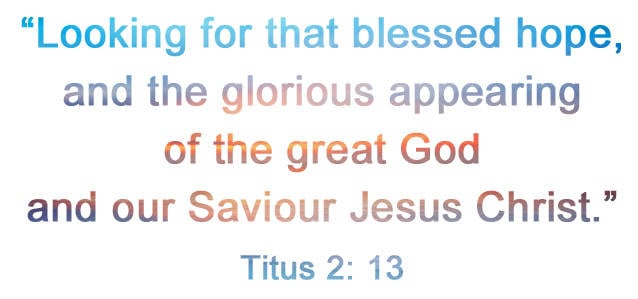 Soon

Soon - no more sorrow,
no more heartache, and no more tears.
Soon - no more darkness,
no separation, no more fears.
Soon - no more death,
no more sickness, no more pain.
Soon the conqueror of all these things
will come again.
Soon - 'tis Him we'll see,
like Him we'll be, with Him we'll stay.
Soon - no more to wait,
and it could be Perhaps Today!
AleB
~~~~~



Related Links

* In the Fullness of Time
The Bible doesn't say: "when the world was ready" but "in the fullness of the time"
- God's time.
* Are You Ready?
The Bible doesn't tell us when this event is going to happen.
Nobody knows, not even the Lord Jesus Himself!
* PERHAPS TODAY!
Picture album on Facebook.
A collection of tasteful pictures and an encouraging or challenging thoughts
concerning the promised coming of the Lord Jesus Christ.


* "Morning Star"
(Sample of Song from "A Whisper in the Wind" CD - Track 8)