*~~ In the Fullness of Time ~~ (Perhaps Today)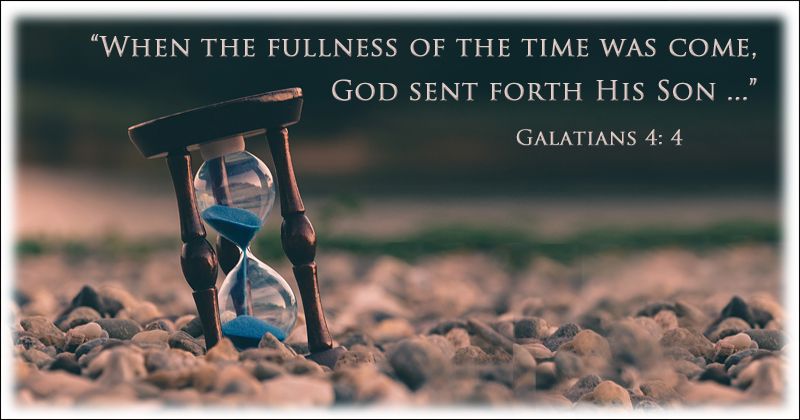 We read in the book of Ecclesiastes: "To every thing there is a season, and a time to every purpose and for every work." (Ecclesiastes 3: 17,) so when the Word of God tells us that "When the fullness of the time was come, God sent forth His Son ..." (Galatians 4: 4,) we know that there was a purpose in God sending His Son back then 2000+ years ago and not waiting until last year or last week even
Everything was in place, ready and waiting for Him. However, that cannot be said about the Jewish Nation, or the religious system of that time, can it? King Herod felt threatened by the news brought to him by the wise men from the East. Calling upon the religious rulers to find out more, they could show where and when "The King of the Jews" was to be born, but that only brought to him knowledge that caused him to act like a butcher in attempting to rid himself of any rival!
Going back a little we see that there wasn't any room for God's Son at His birth. Where were Joseph and Mary situated when the Precious Son of God came into the world – under the stars? In a stable? Who knows for certain? One thing we do know is that there was 'no room' for them in the Inn!
Very few appeared to be waiting for Him; like Simeon to whom had been revealed that he would not see death until he had seen to Lord's Christ, and Anna "who spoke of Him to all that looked for redemption in Jerusalem." (Luke 2: 38.)
The Bible doesn't say ' when the world was ready, but 'in the fullness of time, ... God's time!

He didn't come a moment too soon or a moment too late,
He came exactly on time, to the very day
and probably to the very hour!
When He was just a young Man He was to be cut off in the prime of his life. By the most He was rejected and offered the very worst that man could think of doing to this lovely Man, all in the vile purpose of ridding themselves of Him once for all! Satan thought He had won the victory once and for all there at the cross outside the city wall of Jerusalem, but when Christ was lifted up, He was there: "by the determinate counsel and foreknowledge of God ..." (Acts 2: 23.) He was there for the purpose of dealing with the matter of sin once for all ...
and died not a moment too soon or a moment too late,
but He died exactly on time, to the very day and - to the very hour!
One day – In the fullness of God's time our Precious Lord Jesus will come again even as He promised He would. Some ask with painful undertones, and understandably so, "Why does He wait for so long?" Others are complacent about:
"the blessed hope and glorious appearing of our Lord Jesus Christ"
Titus 2: 13
And perhaps as a result they have given themselves to careless living. But if the Apostle Paul wrote about the coming of our Lord Jesus as an imminent event therefore urging all of Christ's followers to live in the joyful anticipation it, should not we also be of the same mind, who are living almost 2000 years after Paul penned those words to the believers back then?
Imagine what a difference this can make to the way we live our lives if we were only to take in this blessed truth deep into our souls and live in the reality of it. What an encouragement, what a comfort, and - what a challenge!
The Lord Jesus is coming again.
He will come not a moment too soon or a moment too late,
but He will come again exactly on time, to the very day, and ...
to the very hour!
Make sure you are ready!

RELATED LINK - PERHAPS TODAY!