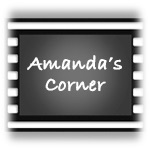 Well, after several years of Rest a While being out there being used of the Lord to bless many people, some of you dear folks have written to tell me how you have been helped and comforted or encouraged with the content found here. Thank you SO much! You know, every now and then encouragers need encouragement :-)
I am obsessive creator and have had the privilege of creating two albums of quality Christian songs for the blessing and encouragement of those who need to hear them. However, for a long while now after prayerfully considering the idea of communicating via video, and having been carefully researched how to do this to the best of my ability I have at last established another little corner on the Internet on YouTube.
I would like to welcome you to 'Amanda's Corner' where you will find all sorts of reliable and wholesome content carefully lovingly created to draw your attention to the One who is able to: 'satisfy the longing soul and fill the hungry soul with goodness'. Psalm 107: 9. I trust that every one will be a treasure to you; for each of these videos will bring a much more personal touch from my heart to yours.
I very much look forward to welcoming you there :)
Please use the chapter links to re-visit my story ...