Does This Sound Familiar?
Posted on

Courtesy of Pixabay.com
The morning started all grey and overcast, but I had prayed for fair weather as I usually do on a day like this.
You see, today was the day when we were going to pay our final respects to Mum Le Bail (Yvonne). And I can't recall there was ever a funeral of a true believer I ever attended when the sun didn't shine at just the right moment. I prayed that this would be so once again this day and I was sure that the Lord would do it again.
Right enough, about an hour and a half before the service was to begin the clouds parted and the weather was absolutely lovely for the full duration of the service and for the committal afterwards. Of course being in the month of January it was very cold but otherwise very pleasant, for which everyone was truly thankful.
As we journeyed back home the clouds returned and it started to rain again.
Well, how about that!
While people were arriving at the Church, in the background playing softly was my new song: "Just Passing Through", which family members requested to be played on this occasion. It was on a loop and played over a few times while people were arriving. Before the service began while people were quietly talking among themselves, the Pastor came over to my Son and I, and we chatted for a little while. During a pause in our conversation he turned to asked me with a smile: "Does this sound familiar to you?" (Referring to my song.) I replied: "Yes, it is, I know it very well!" Then off he went to welcome another family member into the church. :)
It was a beautiful service and a fitting and honourable tribute to a very special lady who was not only a devoted mother to her children well into adulthood, but she was an incredibly wonderful friend to me. I look forward to that soon coming day when the Lord Jesus comes as He promised. We'll see Mum again, and many more of those precious loved ones who went on ahead of us to be: "with Christ, which is far better." Philippians 1: 23.
As I was listening to some ministry on the Internet recently the Pastor I was listening to covered the verses of 2 Timothy 3: 1-5, and as he read these verses slowly and deliberately I was thinking to myself: 'although these words were written long ago, there is something about them that is strangely familiar right now.' And why is that? It is because these words are a perfect and graphic description of the age in which we are living ... today! It is as if the writer had penned these words only last week!

"This know also, that in the last days perilous times shall come.
For men shall be lovers of their own selves,
covetous, boasters, proud, blasphemers, disobedient to parents, unthankful, unholy,
Without natural affection, trucebreakers, false accusers, incontinent, fierce,
despisers of those that are good,
Traitors, heady, highminded, lovers of pleasures more than lovers of God;
Having a form of godliness, but denying the power thereof: from such turn away."
2 Timothy 3: 1-5.
Well, that's a pretty depressing list of characteristics isn't it? Nineteen of them to be precise! And I don't know about you, but as you read them through didn't they seem familiar to you also?
You only have to turn on your TV, or read the newspapers to see for yourselves that: "the mystery of iniquity doth already work ..." 2 Thessalonians 2: 7. The spirit of lawlessness is rampant no matter where we look.
Now, it would be the easiest thing to become despondent with the barefaced wickedness we see all around us, or maybe, just maybe we could find encouragement that these sad days were predicted in the Bible and precede an event that is very soon to take place.
Please notice that the Bible reading from 2 Timothy begun with this small sentence "... in the last days perilous times shall come'. If we are seeing all these things happening right in front of us, and that sorry list of characteristics is all too familiar to us today, then it stands to reason that we are 'in the last days!'
But what does it mean when the Bible tells us that we are in 'the last days?'
Well, for every true believer, these are the last moments when we find ourselves 'counting down' as it were, and "looking for that blessed hope, and the glorious appearing of the great God and our Saviour Jesus Christ." Titus 2: 13. These are the last days just before the promise of the Lord Jesus is about to be fulfilled. This is what He said: "I go to prepare a place for you. And if I go and prepare a place for you, I will come again, and receive you unto myself; that where I am, there ye may be also." John 14: 2-3.
When every true believer is focused on this wonderful promise, this is an exciting time, because very soon, in fact, any minute now, He is coming for His beloved people to take us away from this sad old world. He is going to take us to be with Him in the place He went to prepare for us when He went back into heaven.
These are the last days in which the chapter is about to close
and another is about to begin!
But what of those who are left behind? This world is in rapid decline and speedily heading for judgement. All living in it who have little or no regard for the living God, His beloved Son, and the salvation which He offers will soon have to face His wrath instead. These for them are the very last moments in which they have a chance can do something about their predicament.
The Bible tells us that: "The Lord is not slack concerning his promise, as some men count slackness; but is longsuffering to us-ward, not willing that any should perish, but that all should come to repentance." 2 Peter 3: 9.
This chapter in our history is just about the longest one so far because of the abounding mercy of a loving God who has been waiting for sinners for whom Christ died to repent and trust in Him fully. And in these last days while everything is going into chaos He waits just another day ... and just another ... and another. But, He will not wait for much longer. One day soon He will declare: as He did just before the flood in Noah's time: "My spirit shall not always strive with man ..." Genesis 6: 3.
But who is He waiting for? Could it be for you?
If you are reading this and find that you could be among those left behind to face judgement against your sin, you need to get serious about your dilemma before God. He knows all about it infinitely better than you do, and desires to save you from sin's power and its consequences.
Your sin and mine is the reason why Jesus came and ultimately went all the way to the cross to suffer, bleed, and to die. He bore in His body the punishment and separation from God that our sin deserves because we are totally incapable of doing anything about it ourselves.
Such love ought to touch your heart deeply. As soon as you are prepared before God to accept that you are the poor lost sinner for whom Jesus died to save, humble yourself and trust Him without reserve, God will set you on a new pathway, give you a new life with new goals. You too will be able to look forward with joyful anticipation to that soon coming day when Jesus comes for all those who have trusted in Him and "love Him who first loved us." 1 John 4: 19.
Perhaps you are one of God's dear people but have become overwhelmed in this chaotic system in which we are currently living. It's looking dire and the days are dark and closing in on us. It is easy to become fearful and wonder what will happen next. Here is the good news - Jesus is coming again! He's coming for you! Hold on just a little while longer! Look up, because it won't be long now. You and I have so very much to look forward to ... very soon ... Perhaps Today!
Here is a couple of little passages from the Bible that you might be familiar with. May these words bring to you comfort in these 'last days'.
"Behold, I shew you a mystery; We shall not all sleep, but we shall all be changed,
In a moment, in the twinkling of an eye, at the last trump: for the trumpet shall sound,
and the dead shall be raised incorruptible, and we shall be changed."
1 Corinthians 15: 51-52.
"For the Lord himself shall descend from heaven with a shout,
with the voice of the archangel, and with the trump of God: and the dead in Christ shall rise first:
Then we which are alive and remain shall be caught up together with them in the clouds,
to meet the Lord in the air: and so shall we ever be with the Lord.
Wherefore comfort one another with these words."
1 Thessalonians 4: 16-18.

Here's a simple explanation on how to make sure you are ready for heaven - while you have the opportunity!
It's as simple as 'ABC'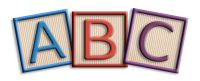 ~~~~~

>> Do you have any questions or comments about the above thoughts I would love to hear from you -
why not say hello down below!

♥