Beside the Still Waters
Posted on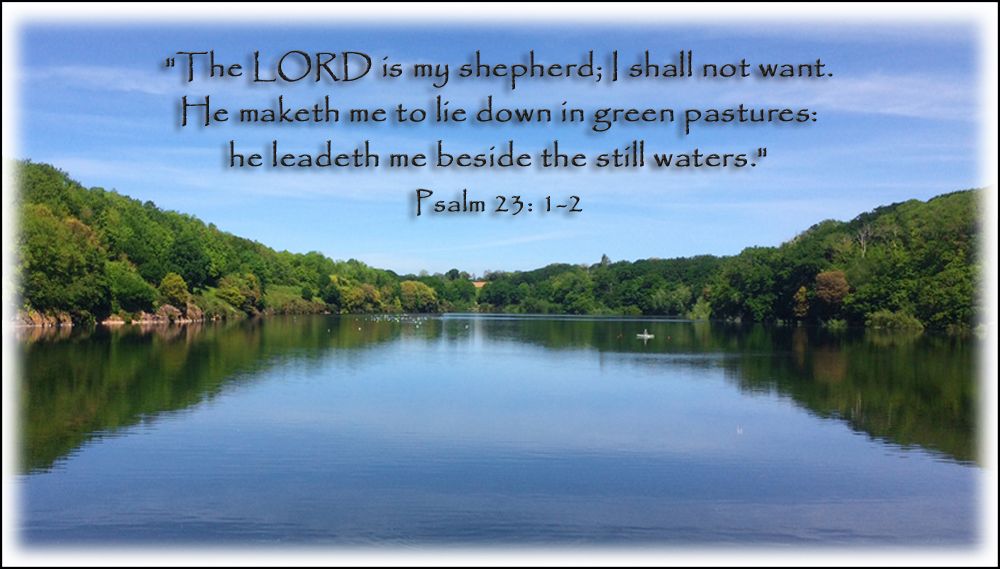 During one of those times outside and getting air and exercise we went to what has to be one of my favourite places - Queen's Valley Reservoir. It was a beautiful sunny day with nothing more than a gentle breeze to refresh us as we made our way around this lovely body of water which is rather like a mini lake.
Sometimes when we go there the water is all troubled because of the elements but not that day! The day we visited the water was like a mill pond! The sunlight played on the ripples which enhanced the beauty of where we were, and I couldn't help but be reminded of the above verse from Psalm 23.
Still waters are a place where the Shepherd leads His sheep. Such is the intricate and loving care of the beloved Lord Jesus, 'my Shepherd'

... maybe He's your Shepherd also!
He doesn't need to drag us there, He leads. He doesn't push us there, He leads. He is not following along in case we just so happen to come across a place of stillness and rest - He leads us there!
Did you notice also that the Shepherd doesn't lead his sheep 'into' the still waters but 'beside' them! And there is a good reason for this; because if we got in, the waters would not be still anymore! Any movement we made would send ripples out and disturb the tranquillity of the moment.
Now, although there may be times when we are called upon to go through certain trials and suffering which are pictured in the Bible as waters, or rivers, or even fire through which we must pass, God has promised these will not overcome us because He will be with us. (See Isaiah 43: 2.) But the waters to which the Shepherd leads are 'still waters', and He leads us there for a specific purpose.
There are lessons to learn from a situation like this that we would not learn elsewhere.
You see, still waters are like a mirror reflecting the sky looking down on them, and the clouds silently passing overhead. The still waters catch the sunlight and translate it into beautiful flashes of sparkling radiance. You cannot help but receive an essence of joy at such a sight of such illuminated beauty.
Life is full of ups and downs. It has its joys and its sorrows, and it has its dark days and light days. And just like the sea or a body of water like the one where we often visit, life can be subject to external disturbances and our peace can get all ruffled!
Ahh, but where He leads is somewhere very different! Under the Shepherd's loving care and following the Shepherd's leading, we are taken to a place of calmness deep within the soul that none can disturb.
When we who are so often beset with cares, worries and trials, the Bible encourages us and instructs us as to what to do:
"Be careful for nothing; but in every thing by prayer and supplication with thanksgiving
let your requests be made known unto God.
And the peace of God, which passeth all understanding, shall keep your hearts and minds through Christ Jesus."
Philippians 4: 6-7.
'The peace of God, which passeth all understanding'! Does this not sound rather like those still waters where the Shepherd leads His sheep? This is a stillness that is ever so much deeper than merely what's on the surface. Deep as our minds and thoughts are maybe!
In spite of our circumstances through which we must all pass, this peace is found in abundance only in the One who is able to give it freely, enabling His people to remain in a state of quietness and serenity while going through a trial of one sort or another. The Lord Jesus invited us to:
"Come unto me, all ye that labour and are heavy laden, and I will give you rest.
Take my yoke upon you, and learn of me;
for I am meek and lowly in heart: and ye shall find rest unto your souls.
For my yoke is easy, and my burden is light."
Matthew 11: 28-30.
He stands in the midst of a troubled world and calls for His people to come to Him; the 'good Shepherd' who not only 'knows' the way but IS the way.
There is one thing we must do therefore in order to appreciate what it is He is communicating to us - we must follow!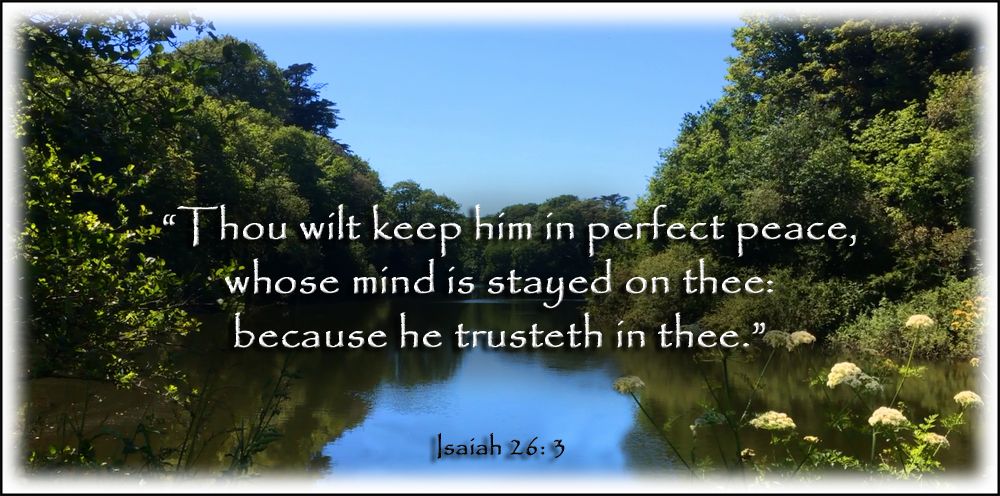 The Lord Jesus is the 'Shepherd' of those who trust in Him.
Here's how He can be your Shepherd as well.
It's as simple as ... 'ABC'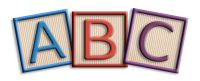 ~~~~~

>>

Do you have any

questions

or comments

about the above thoughts

I would

love

to hear from you -
why not say

hello

down below!

♥