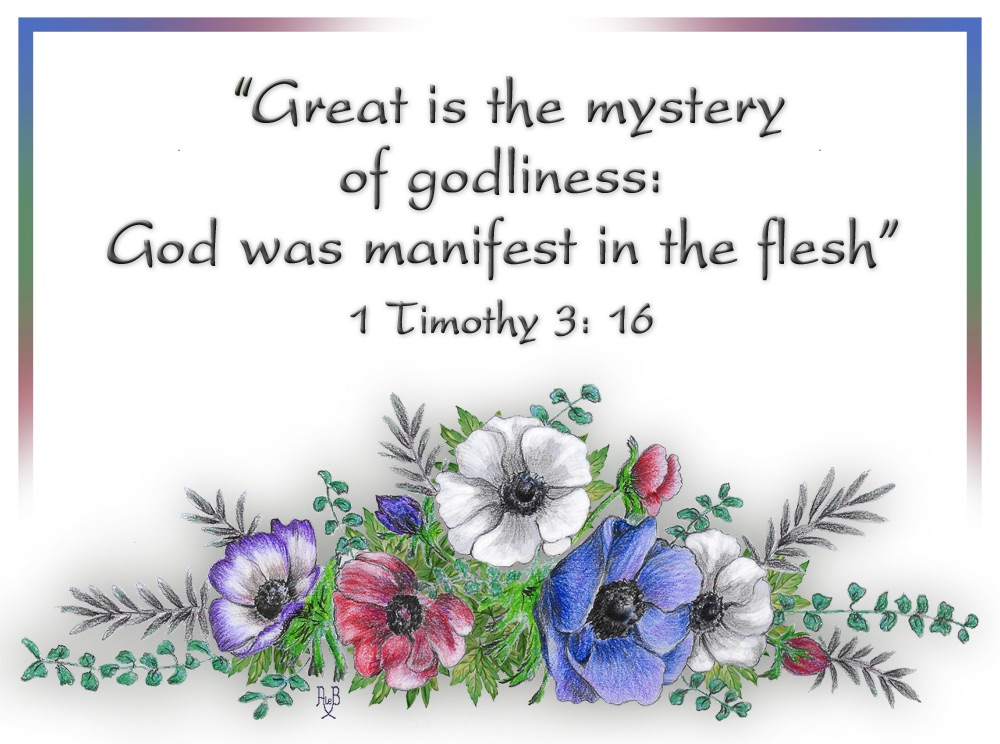 My apologies if you are familiar with this little thought. If you are on my mailing list this will have arrived via 'Snail Mail' a week or two ago, but for the sake of my Rest a While friends and family I thought this might be a little thought you might value.
For a large proportion of the year my mind has been occupied with the mighty subject of the Sovereignty of our great God. After all, such a High and Lofty One warrants our attention and sincere homage. Think of it, the One with whom we are acquainted is indeed the mighty Maker of the universes! The human mind cannot comprehend the total sum of them - but stars, comments, galaxies, and black holes are a 'piece of cake' to Him! He specialises in impossibilities and in things that cannot be comprehended.
Now let's come home to earth where we are in more familiar surroundings. Our beautiful little blue planet suspended in space is the perfect home for a diversity of life including ours. To this place long ago God visited in the form of a human being. For thirty years He lived His life in obscurity and then when the time was right He began His ministry which lasted for a mere three and a half years before He did what He ultimately came to do when alone on the cross He died to put away sin once for all.
But look what happened when the Sovereign came to live on earth. There were a few people whose lives were changed quite possibly forever. The blind were made to see, the deaf to hear, the diseased where healed by the mere touch of His hand. Some came into blessing by the command the of His voice when demoniacs were liberated, raging storms were stilled and the dead were raised to life again.
At last, here was the answer to all human suffering and need, but alas when the question was raised by Pilate: "Who will you that I release and who will I deliver to be crucified?" To his dismay the gathered multitude cried out for the blood of Jesus when they said: "Let Him be crucified".(Matthew 27: 17-22.) How could this be? Humanity had never seen such a wonderful Man before! But the crowd being stirred up by the religious leaders of that day rejected Him and sadly got what they asked for instead! In effect they said: "We will not have this man to reign over us."(Luke 19: 14.)
And the world wonders why there is such suffering at every turn, could this be the reason why? They rejected the One with all the answers, and sadly, if Jesus was to live on earth again as He did back then, the human race would do the very same thing. It's in our nature!
However, there are still a few folks around who are prepared to reverse the cry of the world that has rejected Him. They call for Him to reign over them as their Lord and Saviour. We are among those folks, and it is possible to know the sunshine of His love upon us every day because we have trusted Him with our souls and with our lives.

One day He will reign as Sovereign but it will be different then. He will reign with a rod of iron every inhabitant on earth whether they want Him to rule or not; for the Bible tells us that:
"Every knee shall bow,
and every tongue shall confess that Jesus Christ is Lord,
to the glory of God the Father."
Philippians 2: 10-11.
But the question is, "what about us?" It is truly wonderful to have a saved soul and to know that we have a home awaiting us in heaven, but do we have 'a saved life'? One which has been subjected to the Lordship of the One who is able to turn fear to joy, darkness to light, beauty out of ashes and the oil of joy for the spirit of mourning.
May each of us be able to truly say of our beloved Lord Jesus that as well as being our Saviour, that He is our Lord and lover of our souls, and .... our Sovereign!
It may be of interest to you that my latest song called 'Sovereign' and a video to go with it has been created about this very subject and I am hoping to publish it before the New Year. It will be posted in my next blog on the last day of this year if all is well.
Now may I take this opportunity to wish you and your loved ones a lovely Christmas and very much blessing for the year to come.
See you in the next blog ... next week :)
~~~~~
Merry Christmas

A little personal and seasonal greeting from me to you
with a little bit of news about my next video
~~~~~

>> Do you have any questions or comments? I would love to hear from you - why not say hello down below! ♥