"A man's gift maketh room for him, and bringeth him before great men."
Proverbs 18: 16
Perhaps when King Solomon wrote these words he had in mind that the 'great men' may have been men of importance in man's standing. People like himself and leaders of provinces.
Joseph's gift brought him eventually before Pharaoh King of Egypt, and was instrumental in saving a whole nation from perishing with starvation in a famine.
David's gift brought him before King Saul to help soothe and pacify his troubled soul. Little did David know that one day he would be taking Saul's place in Kingship.
However, when the Lord used this verse to speak to my soul I began to ask myself what the Lord meant when He said that the gift He has given will bring His servant before 'great men'.
Did He really mean distinguished people like world leaders and others who are great in the eyes of mankind? Or did the Lord have something else in mind?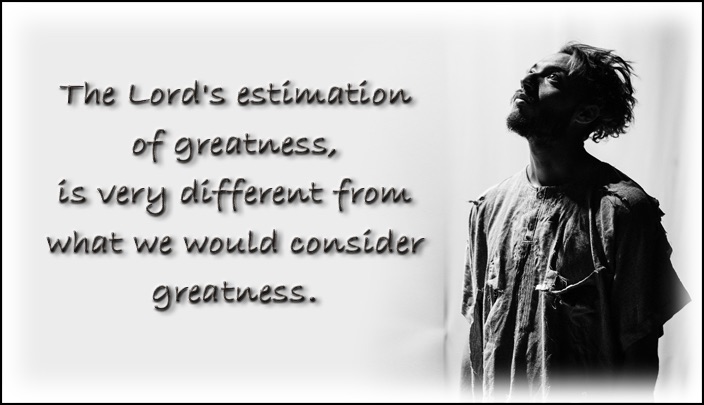 Let's take a look at the account of when Samuel was called of God to choose a King for Israel:
"And the Lord said unto Samuel ... fill thine horn with oil, and go, I will send thee to Jesse the Bethlehemite: for I have provided me a king among his sons. And call Jesse to the sacrifice, and I will shew thee what thou shalt do: and thou shalt anoint unto me him whom I name unto thee.
And Samuel did that which the Lord spake, and came to Bethlehem. And he sanctified Jesse and his sons, and called them to the sacrifice. And it came to pass, when they were come, that he looked on Eliab, and said, Surely the Lord's anointed is before him.
But the Lord said unto Samuel, Look not on his countenance, or on the height of his stature; because I have refused him: for the Lord seeth not as man seeth; for man looketh on the outward appearance, but the Lord looketh on the heart.
Then Jesse called Abinadab, and made him pass before Samuel. And he said, Neither hath the Lord chosen this. Then Jesse made Shammah to pass by. And he said, Neither hath the Lord chosen this. Again, Jesse made seven of his sons to pass before Samuel. And Samuel said unto Jesse, The Lord hath not chosen these.
And Samuel said unto Jesse, Are here all thy children? And he said, There remaineth yet the youngest, and, behold, he keepeth the sheep. And Samuel said unto Jesse, Send and fetch him: for we will not sit down till he come hither. And he sent, and brought him in.
Now he was ruddy, and withal of a beautiful countenance, and goodly to look to.
And the Lord said, Arise, anoint him: for this is he. Then Samuel took the horn of oil, and anointed him in the midst of his brethren: and the Spirit of the Lord came upon David from that day forward. 1 Samuel 16: 1-13
Who would have imagined that young David; the keeper of the sheep, would be God's chosen one to lead Israel? Why didn't God choose any of Jessie's other sons who were older and more mature? Perhaps among them there might have been one of larger stature, or more of a commanding character!
God chose David because He looked into his heart and saw the makings of a great man. He wasn't a perfect man by all means but the Bible tells us that this man was a man "after God's own heart." That means that David deeply reverenced His God and it was his pleasure to honour Him.
He must have passed this on to his son, for Solomon wrote: "A GOOD name is rather to be chosen than great riches, and loving favour rather than silver and gold" Proverbs 22: 1.
Seeing as the Lord Jesus wasn't too impressed with those that other people looked up to, what was His definition of 'greatness'?
"And James and John, the sons of Zebedee, come unto him, saying, Master, we would that thou shouldest do for us whatsoever we shall desire. And he said unto them, What would ye that I should do for you?
They said unto him, Grant unto us that we may sit, one on thy right hand, and the other on thy left hand, in thy glory... And when the ten heard it, they began to be much displeased with James and John.
But Jesus called them to him, and saith unto them, Ye know that they which are accounted to rule over the Gentiles exercise lordship over them; and their great ones exercise authority upon them.
But so shall it not be among you: but whosoever will be great among you, shall be your minister: and whosoever of you will be the chiefest, shall be servant of all.
For even the Son of man came not to be ministered unto, but to minister, and to give his life a ransom for many." Mark 35-45
James the Apostle had this to write about Biblical greatness:
"My brethren, have not the faith of our Lord Jesus Christ, the Lord of glory, with respect of persons.
For if there come unto your assembly a man with a gold ring, in goodly apparel, and there come in also a poor man in vile raiment; and ye have respect to him that weareth the gay clothing, and say unto him,
Sit thou here in a good place; and say to the poor, Stand thou there, or sit here under my footstool: are ye not then partial in yourselves, and are become judges of evil thoughts?
Hearken, my beloved brethren, Hath not God chosen the poor of this world rich in faith ..." James 2: 1-5
I am persuaded that the greats of this world are not necessarily the dignitaries, though some of them may very well be great indeed. It is possible that the majority of great men and women may well be those who are unnoticed and overlooked.
Remember when the Lord Jesus came to earth He didn't come in a blaze of glory but as a helpless infant growing up in Nazareth, the city that was despised in that day, working at a carpenter's bench, a homeless travelling preacher that the world rejected and crucified on a Roman cross! But was that all?
That's all we see on the surface until we take a closer look and see there: "God manifest in the flesh." There was nobody that ever walked this earth that was greater than He. His vision was perfect and estimated people according to what only He could see.
Would to God that we would have a greater ability to see people through the eyes of Christ and use what has been freely given to us to minister to their needs.
"Inasmuch as ye have done it unto one of the least of these my brethren,
ye have done it unto me."
Matthew 25: 40
~~~