Having made several attempts to write this latest blog for a number of weeks I got there at last :-) The nature of the distractions that have occurred since my last entry have certainly filled up my time, and I can't believe how quickly the time has passed. I trust that the following thoughts will be of a blessing to you especially if at this time you are one of those people who may be feeling unloved and forgotten.

~~~~~
Having moved from our temporary accommodation and settled in to our new home we have over the months passed tidied our garden and fashioned it to accommodate a winding slab pathway leading to a small shed at the far end.
A few little dug out gardens around the edge are now home to cuttings and small bushes which will one day be moved to their more permanent home. Intense dry weather is making the growing of a lawn rather difficult and it needs watering each evening just to keep it going until we get some substantial amount of rain.
There is more construction or renovating work being undertaken to the houses that surround us, so we are in effect living right in the middle of a building sight for a while.
My husband made a make shift bird feeding table to try and attract the little birds back that have been chased away by all the heavy machinery. Although they do visit our garden, we are still waiting for these little creatures to visit the table. However we do get visitors to our bird table in the form of herring gulls which are usually more native to the sea and coastal areas. These birds have taken to coming inland and there are a few pairs of them nesting on the rooftops of the neighbouring houses. Because the weather has been both hostile to man and beast, these poor birds are rather desperate for sustenance and refreshment and have resorted to eating the tiny seeds that we were leaving for the little birds. Because of this we have had to purchase a birdfeeder to keep the gulls from eating the seeds and frightening the little birds away. They are welcome to drink from the many sources of water there is to be found in our garden but they will have to go further afield to find food.
It is a bit of a battle at the moment and as yet we haven't seen much in the way of small birds but we wait with patience for the day when the dear little visitors will frequent our garden more often.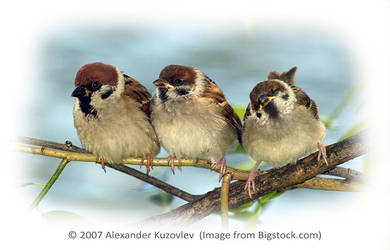 "I love sparrows, they're my type of birds!" said my husband to me one day a little while ago as we watched them having dust baths in the dry earth in our dug out gardens. I knew what he meant; for sparrows are not showy birds, in fact they are rather plain, but they don't appear to be at all bothered about that. Most people wouldn't give them a second look, and they don't seem to be bothered about that either, and yet there they are all around us and our Heavenly Father knows about them all. He knows every intricate detail of their little lives and His care for them is rather humbling.
Why is that? It is simply because the Lord Jesus Himself told us that He who cares for the sparrows cares for us also. Let your heart enjoy the following words.
"Are not two sparrows sold for a farthing?
and one of them shall not fall on the ground without your Father.
But the very hairs of your head are all numbered.
Fear ye not therefore, ye are of more value than many sparrows."
Matthew 10: 29-31.
Perhaps there are times in our lives when we passing through a trial of one sort or another which leaves us feeling as if we are all alone. "What is God doing?" We might be thinking. "Doesn't He know that this is almost unbearable?" "Why is He allowing this and doesn't take it away?" A million thoughts run through our confused minds and we convince ourselves that nobody cares, not even God!
Dear suffering soul, God does care for you with the tenderness of a shepherd's care and He who knows and cares about the intricate details of the little sparrows knows and cares all about yours. He never allows a trial to come your way without a purpose. Although we will not necessarily know what that purpose is straight away, there is always something priceless about Himself that we can learn and treasure all our lives. These are treasures we can take with us through our lives, share with others, and take with us when we pass from this life into His presence.
To speak personally, I would never have learned that "my God would supply all our need according to his riches in glory by Christ Jesus", had we not have gone through a financial crisis at some point in our lives, (see Philippians 4: 19.) I would never have appreciated that God was "the God of comfort" had we not gone through some extreme circumstances, (see 2 Corinthians 1: 3-4.)

Remember, this is the God who knows your name - Isaiah 43: 1
He knows your situation and your thoughts - Psalm 139: 2
And He knows your needs - Matthew 6: 8 - the greatest of which is your need for His full and free pardon from sin - Romans 5: 8
So if ever you are feeling as if you are insignificant, or alone, just think of those darling little sparrows and remember the Lord's care for them. He knows what is best for all of us for time and for eternity, so never doubt His love. He proved His love for people like you and me at Calvary: "God commendeth his love toward us, in that, while we were yet sinners, Christ died for us." Romans 5: 8. The same One who died for sinners on the cross now lives in the power of an endless life.
You can trust Him implicitly with your life as well as with your soul. Why not do that today?
~~~~~