When I was composing fresh thoughts for this months Blog entry, my train of thinking was interrupted by a cute little story I heard. Apparently this is a true account of something that happened a little while ago.
This heartwarming story about a little boy called Thomas who came to School dressed as Superman! When the teacher asked him: "Why are you dressed as Superman?" The little boy replied: "Because Superman is my Uncle!" The teacher smiled and gently chided him for making things up. But he confidently affirmed that this was so, because according to him Superman was really his Uncle!
He told all of his School mates, he told the playground Assistant, and soon the School Officer was informed about little Thomas and his 'tales'! The news travelled fast and the little boy and his 'tale' of being the nephew of Superman was causing a bit of a stir, and the School Officer got in touch with the little boy's Mother.
A conversation took place between her and the Officer. There was an expression of concern about her son and his fantasies, and the risk of him growing up believing in the reality of Superman fuelled by his imagined relationship with this fictitious character. "We try to encourage the children not to tell lies!" Said the rather frustrated Officer.
The child's Mother quietly listened to the concerns brought before her, and then gently replied that her little boy was telling the truth!
She got in touch with her brother-in-law to ask if he wouldn't mind going to the School to 'save' Thomas, and sure enough, at the appointed time, Mr Henry Cavill made a visit to the School much to the delight of a whole lot of excited children! Thomas was telling the truth after all, because he is the nephew of the Actor who portrayed Superman in the movie 'Man of Steel'!
Now, our little Island of Jersey is famous for many wonderful things: the world knows us for our famous beautiful cows and the luscious milk they produce, and our lovely 'Jersey Royal' potatoes produced in the spring time, Lilly Langtry an actress of yesteryear, the lovely Jersey lily flowers named after her, then our very beautiful Island is a holiday destination for many, and of course - Mr. Henry Cavill (aka Superman) is a Jersey boy! Imagine that, we have our own Superman! :)
Some years ago, back when the movie was premiered, I wrote about this event and Jersey's 'Man of Steel'. It was an interesting and a proud moment for Jersey, in which I saw a valuable spiritual lesson, you will find it here…
But it doesn't take much to see that there is another spiritual insight into this recent incident I would very much like to share with you.
Please allow me to tell you about somebody that I know is infinitely more powerful than any superhero that this world could ever produce. His name is Jesus.
The Bible tells us that he is "God manifest in the flesh." 1 Timothy 3: 16. "In him dwells all the fullness of the godhead bodily." Colossians 2: 9. If ever we want to know what God is like, All we have to do is take a look at His beloved Son, because…
"God who at sundry times and in diverse manners spoke in times past
under the fathers by the prophets, hath in these last days spoken unto us by his Son,
whom he has appointed heir of all things, by whom also he made the worlds;
who being the brightness of his glory, and the express image of his person,
upholding all things by the word of his power, when he had by himself purged our sins,
set down on the right hand of the Majesty on high."
Hebrews 1: 1-3.
When the people of that day when Jesus walked this earth were looking at Him, they were seeing God in the beauty and perfection of His character. This is what the apostle John writes about Him:
"In the beginning was the word, and the word was with God, and the word was God.
The same was in the beginning with God. All things were made by him;
and without him was not anything made that was made.
And the word was made flesh, and dwelt among us,
(and we beheld his glory, the glory as of the only begotten of the father,) full of grace and truth."
John 1: 1-3, 14.
When He lived on Earth around about 2000 years ago, He was able to solve all sorts of human dilemmas. He was able to cleanse the leper, open the eyes of those who were blind, open the ears of those who were deaf, and He was even able to raise people from the dead! He was able to control the weather and commanded a raging storm to be still, and immediately there was a 'great calm'! He was able to feed thousands of hungry people with nothing more than a young lads provisions for the day: five loaves and two small fishes! He was able to heal the brokenhearted, give dignity to those whose lives were so deep in depravity that they had to hide away from everybody around them. And He was able to deliver those incarcerated by demon possession!
What a Man was He!
Isn't the world looking for someone like this today?
But sadly the vast majority of people who live in this world don't want anything to do with the beloved Lord Jesus, like they didn't want Him when He was here, and they are looking for another man, a 'Mr. Fixit' to sort out the worlds problems. The man the world is waiting for is destined to arrive on the scene sometime soon, and he will appear to have all the answers to the dilemmas and the problems in which this world has descended into.
However, I would not recommend any of my readers being here at such a time as this, because unfortunately, Mr. Fixit, or as the Bible calls him - 'the Antichrist' will not be the person who everyone will have been led to believe he is. His name suggests that he will be much more than merely being apposed to Christ, but rather, he will rise to power … 'instead of' Christ! As the Lord Jesus was God in a human body, so the Antichrist is the complete opposite!
This man will be the Devil himself in a human body!
Those who are here to see this man rise to fame will have missed the most marvellous event that every Christian today is, or rather ought to be looking forward to, and that is the promised coming of our beloved Lord Jesus to take us away from this world to be with Himself.
"Let not your heart be troubled: ye believe in God, believe also in me.
In my Father's house are many mansions: if it were not so, I would have told you.
I go to prepare a place for you.
And if I go and prepare a place for you, I will come again, and receive you unto myself;
that where I am, there ye may be also."
John 14: 1-3.
This is what the Bible calls our "blessed hope". (See Titus 2: 13.)
After this miraculous event, which is set to happen very soon, (although we do not know it's appointed time), the world will descend into chaos and perplexity. While the world will be going through a time of great tribulation, God's people who trusted in the Lord Jesus as their personal Saviour while here on earth will be safe in His presence away from all the horrors that this world is about to experience.
This precious Man who 'came into the world to save sinners' like you and me, He is able to deliver all those who are trusting in Him from the wrath to come upon this world and all those who reject Him.
He has already done all that is necessary to 'save' us from this demise when He 'showed up' and lived His perfect and sinless life, (which displayed the life and character of God), and ultimately gave up His own life on the cross, (which displayed the love of God).
There on the cross He did something infinitely greater than any super hero could ever do - He took our place, and in His own body He bore the wrath of God we deserved.
Because the sinless Savior died my sinful soul is counted free
For God the just is satisfied to look on Him and pardon me
C.L. Bancroft
The world is set to endure the wrath that Jesus died to shelter us from. But sadly those who reject God's offer of pardon and deliverance will have to face the wrath of God on their own.
Much wiser it is to trust implicitly in the Lord Jesus, 'who loved us and gave Himself for us,' so we can be forever with Him and in His divine protection rather than to risk being left behind to face the horrors that are yet to come!
Do not trust your own chances, or wait another moment of time - the promise of Jesus' coming could happen at any moment. Come and join those of us who are occupied in the interests of our beloved Lord while we are watching and waiting for His promise to be fulfilled.
~~~~~
Here's how to know for sure you can be ready for heaven.
It's as simple as 'ABC'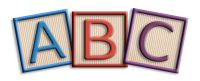 ~~~~~


>> Do you have any questions or comments about the above thoughts I would love to hear from you -
why not say hello down below!

♥