Who Was This Man?
Posted on
Who is this Person that comes to the world's attention a couple of times each year?
Here we are at that time of the year when the schools take a break, and a long weekend begins, which brings a few days off work for some. So many will be pleased to have a break from the routine, but what is this time of the year all about?
Like Christmastime, when everyone appears to indulge themselves with little or no thought as to the reason for the season; even so it would seem that many do exactly the same thing at this time also!
Perhaps some are whispering a 'thank you' heavenwards for a long weekend and a holiday to do what they want to do. But I wonder how many are truly thankful for the real reason for this season!
But there appears to be a question hovering around in the back of our minds:
"What and who is this season all about?"
Now, of course this is a perfectly fitting time to take a closer look at Someone most precious to God and to those who have come to know Him by faith. To the secular world they know that it has something to do with Jesus dying a cruel death by crucifixion and raising from the dead three days later. But that was so long ago, that's not relevant for today … is it?
Let us take a look at Jesus, the precious Son of God. The Bible tells us that:
"In the beginning was the Word, and the Word was with God, and the Word was God.
The same was in the beginning with God.
All things were made by him; and without him was not any thing made that was made …
And the Word was made flesh, and dwelt among us,
(and we beheld his glory, the glory as of the only begotten of the Father,) full of grace and truth."
John 1: 1-3, 14
So much is said in so few words! These beautiful words tell us that Jesus was not merely a man! We are being told here that Jesus was God, and no one less than God Himself! In the book of Colossians we are told that: "in him dwelleth all the fulness of the Godhead bodily." Colossians 2: 9. This simply means that Jesus is all of who God is … in a human body!
"God, who at sundry times and in divers manners spake in time past unto the fathers by the prophets,
Hath in these last days spoken unto us by his Son, whom he hath appointed heir of all things,
by whom also he made the worlds;
Who being the brightness of his glory, and the express image of his person,
and upholding all things by the word of his power …"
Hebrews 1: 1-3.
Everything about this precious Man was the exact expression of God in His essence and in His character, and when the people of that day were observing Him, they were seeing what God is like. Everything about Him from the moment of His conception, every moment of His perfect life, right up to His very last breath was the very life of God living on earth right in front of all to see. From head to toe, from inside to outside, awake or asleep, happy or sad, what Jesus did, is what God would do. Even His inmost thoughts were the thoughts of God.
What in incredible thing this is … "And without controversy great is the mystery of godliness: God was manifest in the flesh …" 1 Timothy 3: 16.
This explains how He was able to perform miracles, and relief the suffering of many folks who were bound with sicknesses and even demonic possession. But His abilities were not limited to the human body; He was able to control the elements also!
In a raging storm that descended upon the vessel He and His disciples were using to go to the other side of the lake, He slept while the others, (some of whom were seasoned fishermen), were toiling with all their might to keep the boat from sinking. At last out of fear and despair they woke Him in question over His care for them.
Without any malice or weariness over their lack of faith … "He arose, and rebuked the winds and the sea; and there was a great calm. But the men marvelled, saying, What manner of man is this, that even the winds and the sea obey him!" Matthew 8: 26-27. I would imagine that they were both in awe, and possibly fearful at the same time. From being afraid of the storm they find themselves in the presence of One more powerful than the storm itself!
This Man who had grown up among them was like them in many respects, but so unlike them in the fact that He manifested Godlike and miraculous power over what would have otherwise been impossibilities.
He asked His disciples one day: "Whom do men say that I the Son of man am? And they said, Some say that thou art John the Baptist: some, Elias; and others, Jeremias, or one of the prophets. He saith unto them, But whom say ye that I am? And Simon Peter answered and said, Thou art the Christ, the Son of the living God." Matthew 8: 27-29
Peter got it! He knew who this precious Man really was! God had revealed this to him, and this was all important knowledge. This was the foundation upon which all of the disciples faith was built, and the foundation upon which the church is built today.
And it is therefore no surprise to learn that such a One was a pure delight indeed to His Father, and on more than one occasion the heaven was opened as God announced: "This is my beloved Son, in whom I am well pleased; hear ye him." Luke 17: 5.
We must understand, it wasn't His abilities that impressed His Father, but it was His sinless and spotless life. At last God could see a Man on earth who was pleasing to Him in every way.
His every thought, every word, and every deed was fragrant with heavenly character,
beautiful, pure and utterly perfect!
One would think that such a wonderful Man would be sought after and embraced by all. After all, this is the Man who was able to heal the sick, feed the hungry, restore sight to the blind, even raise people from the dead … and controlled the weather! He was able to deal with every problem that people faced back then … but He was rejected!
Such was the wickedness in the heart of mankind. After being betrayed by Judas, and delivered for a mock trial and a severe beating, He was presented to the crowd who had been stirred up by the religious leaders of that day.
"Pilate saith unto them, What shall I do then with Jesus which is called Christ?
They all say unto him, Let him be crucified.
And the governor said, Why, what evil hath he done?
But they cried out the more, saying, Let him be crucified."
Matthew 27: 22-23.
They were in effect saying: "We will not have this man to reign over us." Luke 19: 14. (The word 'man' has been inserted to make reading easier but does not appear in the original text. They wouldn't even acknowledge Him as a citizen but only a reject at best!)
However, all of the terrible events that led to the cross, and the hours of suffering that we could see, were a horrific display of what the heart of mankind is really like, while at the same time displaying what the heart of a loving God is like also.
But then came three hours of darkness in which the sufferings of Christ were hidden from everyone's eyes. There He was bearing in His body the wrath of God against the sin of the world, including yours and mine, and He made to meet upon Him all of the accumulated sin from Adam right up to the event of the cross, and all of the anticipated sin from then right up to this present moment of time and beyond.
Who Was This Man?
This Man was our Saviour, our Substitute, our only hope!
And still is!
But not for much longer! You see, the time is fast running out. The opportunity for people to avail themselves of His saving grace is soon coming to an end. The age in which we live is a time of grace in which sinners can come to the Saviour for cleansing and forgiveness. But this is a period of time that has lasted from the death of Christ on the cross right up to this day.
Because God was satisfied with the Work accomplished at the cross the Lord Jesus was risen victoriously from the dead on the third day. A great time of rejoicing followed in which the fearful disciples hiding away for fear of the Jews were filled with gladness, and the sorrow of Mary Magdalene was filled with joy, and the doubt and dubious nature of Thomas was turned into rock solid belief and adoring worship. Such is the blessed portion of those who are closely acquainted with the risen Saviour!
And after spending time with His disciples and many others He was taken back to heaven to prepare a place for those who have trusted in Him, as He promised He would …
"Let not your heart be troubled: ye believe in God, believe also in me.
In my Father's house are many mansions: if it were not so, I would have told you.
I go to prepare a place for you.
And if I go and prepare a place for you, I will come again, and receive you unto myself;
that where I am, there ye may be also."
John 14: 1-3.
And all that is happening in the world today are signs that tell us that His coming for His people is very near indeed. Nobody knows just when that event will take place, so we must be ready and waiting; for He could truly come Perhaps Today!
Perhaps you might have a different view of this long weekend commonly known as the Easter weekend, and I trust that you will not be among those who reject this lovely Man, but be happy to stand with us who love Him and are longing for 'the blessed hope of His glorious appearing', which could happen at any moment.
And so to ask just one more time: Who Was This Man? I believe the best answer to this question comes from the lips of the Lord Himself:
"I am Alpha and Omega, the beginning and the ending, saith the Lord,
which is, and which was, and which is to come, the Almighty.
I am he that liveth, and was dead; and, behold, I am alive for evermore, Amen …"
Revelation 1: 8, 18
~~~~~
Here's how to know for sure you are ready for heaven.
It's as simple as 'ABC'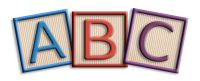 ~~~~~

>> Do you have any questions or comments about the above thoughts I would love to hear from you -
why not say hello down below!

♥