That Will Be Heaven For Me
Posted on
I am sure most people irrespective of their beliefs assume and hope that when all is said and done, at the end of life's journey, to end up in heaven. I'm sure everyone in their right mind would love to go to there, but I wonder if anyone has ever stopped to think about what this place is like.
Of course everyone who is 'born of God' has the assurance that we will be there because all God's people have been given a promise which can never be broken because He who made it can never lie!
Jesus said to His disciples or followers:

"In my Father's house are many mansions: if it were not so, I would have told you.
I go to prepare a place for you. And if I go and prepare a place for you,
I will come again, and receive you unto myself; that where I am, there ye may be also."
John 14: 2-3
Think of this ... the Bible tells us that when God created the heavens and the earth it took Him 6 days to do it!!! It all came into wonderful existence with just the spoken word!
Now take a look at the earth we know today, although with the passing of time it has been spoiled to a certain degree it is still so very beautiful to our eyes.
If it took God six days to create the beauty we can appreciate all around us, and Jesus has been gone for over 2,000 years preparing a place for His people - what kind of a place is heaven really like?
I know that I am going to be there one day, and I'm sure you look forward to going there as well. But here is one thing for certain, God wants you to be there and He's done everything possible ... and impossible in order that you can know that for sure this is your destination.
The Bible tells us that is only God that can provide the way. Without Him to do this for you and me, we would have no hope!
Whatever we try to do to find a place there will be wasted effort because we have a heart condition that has separated us from Him, and that condition is called sin!! We MUST trust in the only remedy God has provided for this condition to be assured that we will have a home in heaven to look forward to.
The condition of sin from which we suffer not only separates us from Him but also diminishes any desire in our hearts to have anything to do with Him in the first place, which makes somewhat of barrier for God to break through. So why would God do something like this for people like you and me? It is simply, and yet profoundly because He loves us!
Jesus said:

"For God so loved the world, that he gave his only begotten Son,
that whosoever believeth in him should not perish, but have everlasting life."
John 3: 16
We cannot any longer assume that heaven is where we are going to be when we die if we do not want anything to do with God in our lives before we leave.
If we want to go to heaven we MUST do what God tells us to do - and that is we MUST believe in Him. We MUST trust Him with every ounce of our being and let God do the rest. In fact ... He already has! The work, all of it is done! That's why the Bible tells us that just before Jesus died on the cross in our place He lifted up His voice and with one triumphant cry He said 'It is finished!' Then He bowed His head and died.
Everyone in heaven today knows that they are there because of what Jesus did on the cross. All of us who know we will be there one day soon know that we have this assurance because of what Jesus did on the cross.
God is not some unreachable being that wants nothing to do with us miserable disappointments like we are. He desires a living and loving relationship with people like you and me. This in effect is the greatest love story ever told, and what He did on the cross was the greatest demonstration of love ever expressed - And He did all this to make us His own.
"God commendeth his love toward us, in that,
while we were yet sinners, Christ died for us."
Romans 5: 8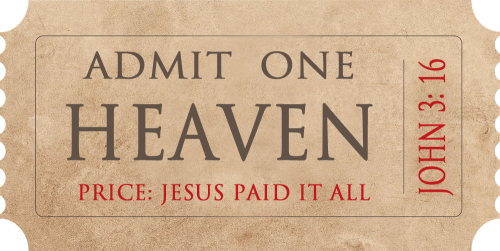 But all that is to be found in Christ by far exceeds a 'ticket to heaven' as it were.
The Bible tells us that Jesus our beloved Lord and Saviour who entered into death to take away our sin rose from among the dead three days after He died. Because He is alive, He is - our dearest friend, our protector, our comforter, our rest, our peace, our joy The list is almost endless because all that we could ever long for is found in Him, and in Him alone.
"For he satisfieth the longing soul,
and filleth the hungry soul with goodness."
Psalm 107: 9
He is sufficient and able to meet us in all our needs, make all grace abound toward us, give assistance to those who are going through trials or temptations, and so much more.
He has promised His people: "I will never leave you, nor forsake you." Hebrews 13: 5. If all that we could ever discover of His wonderful character here is enough to blow our minds - what is it going to be like to be with Him? All that we know is but a minute fraction of all that there is to learn - there's so much more to come for everyone who trusts fully in Him.
~~~~~
Heaven may mean different things to different people. For some it means being reunited with loved ones who have gone before. Oh, how we miss them! For others it means no more suffering, no more heartache, no more sickness, no more burdens to bear!
But having read all of the above I'm hoping that you are beginning to understand that although heaven may be an unspeakably wonderful place, with those pearly gates and streets of gold etc., I believe the most important thing about heaven is the One who is the centre of it!
"Thine eyes shall see the king in his beauty:
they shall behold the land that is very far off."
Isaiah 33: 17
So it seems to me that as wonderful as heaven is going to be, it is He who is the centre of heaven who will be the One who will captivate our hearts.

The Bible tells us:
"Beloved, now are we the sons of God, and it doth not yet appear what we shall be:
but we know that, when he shall appear, we shall be like him; for we shall see him as he is."
1 John 3: 8
Whatever He is like, we shall be like Him! Our eyes are going to see the King in all His beauty ..." Isaiah 33: 17. And upon seeing Him we will be filled with joy the likes of which we could never know here on earth. He will be the One with whom we will be gladly occupied in that day and for eternity.
In that day Jesus, 'the Lamb of God', will fill heaven and thrill our souls. All that our hearts could ever imagine about heaven will pale into insignificance in the light of His glorious presence.
I don't know about you but I can't wait to be there. And I look forward to finding you there as well.

The bride eyes not her garment but her dear Bridegroom's face
I will not gaze at glory but on the King of grace.
Not at the crown He giveth but on His pierced hand;
The Lamb is all the glory of Immanuel's land."
Anne R. Cousin
~~~~~
Here's Something New For You
"A Few Simple Thoughts About Heaven"
Heaven is a place where we all hope to go to at the end of life's journey
But what does heaven really mean to you and how can you be assured of getting there?

Here's a few simple thoughts about this wonderful place
and God's desire for you to know this is your eternal destination.
~~~~~

>> Do you have any questions or comments? I would love to hear from you - why not say hello down below! ♥