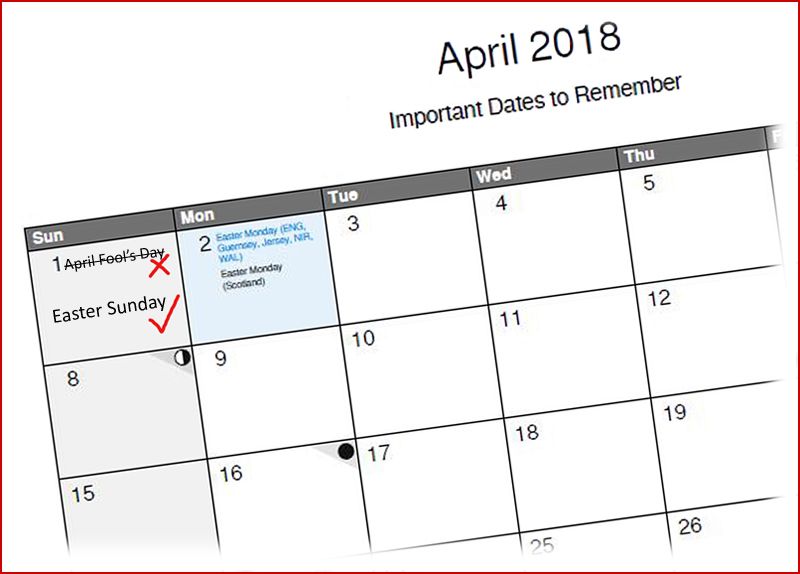 "The preaching of the cross is to them that perish foolishness;
but unto us which are saved it is the power of God."
1 Corinthians 1: 18
It just so happens that the very day in which we celebrate the resurrection of our beloved Lord Jesus is on the 1st day of April - commonly known as April fool's day!
I find that to be quite an intriguing concept, because the good news Gospel message is all about what the world system would consider utter foolishness!
But what does the Bible have to say about this?
* Who would ever have come up with the idea that God would come to visit the earth in a human body, via the article of a virgin womb?
* And if God was going to do something like this wouldn't He have chosen to be born in to nobility?
* Who would have volunteered to suffer ridicule and rejection by those near and dear to Him and by those who ought to have known Him better?
* Seeing as He as God chose to live in a human body - why would suffer the ill manners of those He came to save and allow himself to be taken by wicked hands and nailed to a cross?
* And how He got there is almost beyond reckoning because this Man who did no wrong was set up and suffered the humiliation of a trumped up charge in order to have Him done away with!
* Then suspended on the cross by nails pierced through His hands and feet, and bearing on His brow a cruel and mocking crown of thorns, who would have ever thought of a plan like this to reach the dire needs of mankind?
* Who would ever have thought that spectacle of suffering and shame on Calvary's hill was the very means that God intended to pay the debt we owe to Him?
If we were going to formulate a rescue plan for the needs of the human race we wouldn't have come up with a plan like this I'm sure!
But God did!
So much needless pain and suffering, apparently! But this was exactly what God had designed even before the beginning of time. One day Jesus would come and live His perfect, pure and beautiful life, and demonstrate from His demeanour the wonder of the very nature and character of God, and then go to the cross and demonstrate for all the world to see the wonder of the love of God.
Some would say that this is a foolish message: "Why did all this happen so long ago, and how could such a extreme set of actions have any effect me - personally?
I don't suppose we will ever really know the depth of the answers to these questions 'why?' and 'how?' Except for what the Bible tells us. It's a simple message really, and yet so very profound.
WHY?
Because of love
"For God so loved the world, that he gave his only begotten Son ...
HOW?
Through faith alone

... that whosoever believeth in him should not perish, but have everlasting life."
John 3: 16
This might seem to be a foolish message by those in the world, but those of us who have taken that step of faith and trusted Him fully have discovered that this seemingly foolish message actually is powerful with a capital 'P'.
Why is this?
It is because this is this message is a message from God! He is the power behind this message of love and the power of that message is the ability He has to transform the destiny and the lives of those who are prepared to put their complete trust in Him.
So what about us? Or should I ask ...
What About You?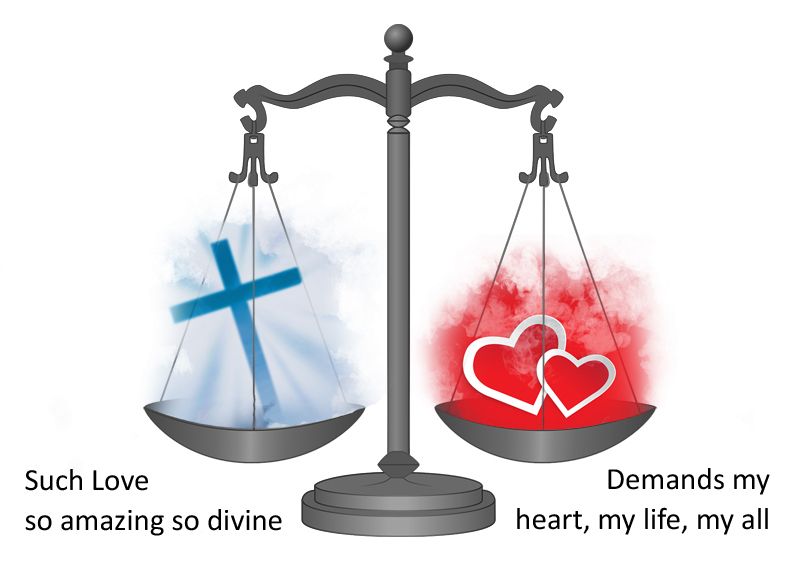 How much of yourself are you prepared to give to Him in return; for such 'love so amazing, so divine, demands our hearts, our lives, our all?
Although the world might think that we are utterly crazy, the fact is that the more of ourselves we are prepared to give in response to such love, the richer in spirit we become!
A famous missionary who was martyred by the people he was called to take the Gospel to in Ecuador once wrote in his journal:
"He is no fool who gives what he cannot keep to gain what he cannot lose."
Jim Elliot.
The principles of victorious Christian living and the principles of being successful in the world are polar opposites. Be prepared, if out of love for Christ we are going to follow Him and serve Him, because most people will think you are a fool. You may not get the applause, fanfare or even the appreciation you hoped you would get. But take courage dear one; for at the end of the day it is what is precious to God that is most important. Being appreciated and approved are passing fancies but God's reward is certain and eternal.
Who is the real fool in the light of the things that we now know? Is it the person who is trusting in a God he cannot see? Or is it the one living for the here and now with the rewards of today which he cannot guarantee to keep while denying the existence of the invisible God and His supreme love?
Here's your answer ...
"The fool hath said in his heart, There is no God."
Psalm 53: 1
"Then I saw that wisdom excelleth folly, as far as light excelleth darkness."
Ecclesiastes 2: 13
So, why not now at this particular time when Easter Sunday just so happens to fall on the same day as April fool's day, choose this particular time to take the plunge and trust in the Man who once died on the cross to save you from the sin that separates you from His eternal good plans for you?
Prove to yourself, and to those round you and that this is the business of the prudent, diligent, and the wise; for your soul is eternal and its value is beyond measure.
~~~~~
IMPORTANT ANNOUNCEMENT
at YouTube
~~~~~

>> Please feel free to leave a comment below - it would be lovely to hear from you ♥