When Jesus Came
Posted on
Here we are once again, at the end of yet another year! My, how time flies! Where did those months go since we were all busy getting ready for the Christmas season last year?
Well, one thing is for certain, we are that much closer to the promised coming of our beloved Lord Jesus than we've ever been, and all the things going on all around us indicate that His coming is imminent! One soon day will be our last day here before all those who have trusted in the Saviour whom God sent into the world to deliver us from the eternal consequences of our sin will hear the call for home!

What a day that will be. Oh, to be with Him at last!
Oh, to be with the One
"Whom having not seen, [we] love;
in whom, though now [we] see him not, yet believing,
[we] rejoice with joy unspeakable and full of glory."
1 Peter 1: 8
It has been one of those years it seems when life has no real purpose without the Lord in it. I see the lives of the people around me, some of them are Christian, and yet without my beloved Lord Jesus in the centre life is so dull and meaningless. What a difference happens when He comes into the lives of the unsaved folks with His saving grace. What a difference happens in the lives of believers when the Lord comes in with the knowledge of His presence.
John chapter 20 has a few remarkable accounts that captured my interest; for when Jesus came into the lives of a few distraught people their sorrow, fears and doubt disappeared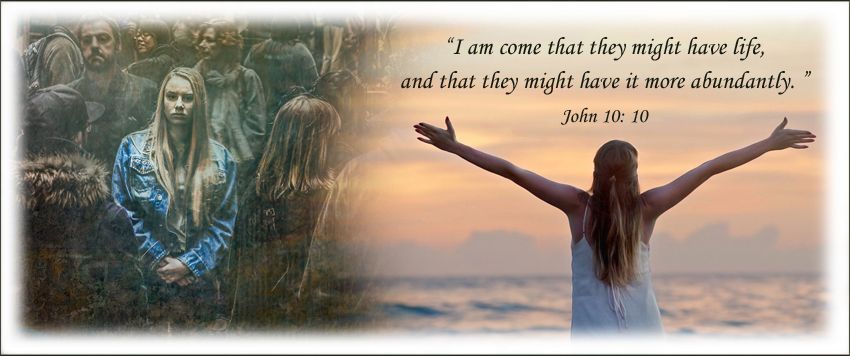 I think of Mary of Madeleine's sorrow. She had seen the Lord suffer, and there was so little she could do, and now He was dead and buried! The least she could do would be to anoint His body! Her heart was laid low as she visited the tomb of her beloved Lord only to find that the stone was rolled away and the body was gone! Sorrow upon sorrow filled her anguished soul. But her sorrow instantly disappeared at the sound of the Lord gently calling her name.
What a difference for Mary; for sorrow turned into joy - when Jesus came!
A few of the Lord's disciples were gathered together behind closed doors for fear of the Jews. What must have been going through their fearful minds just three days after their beloved Lord was crucified. What were they to do now? How could they ever go back to the life they left behind to follow Him? They left all to walk with Him and now He was gone! ... Or was He? Suddenly there He appeared before them. Closed doors wouldn't keep Him away from those He loved. So when the Lord came to them in resurrected glory we read: "Then were the disciples glad when they saw the Lord." (verse 20.)
Their fear dissolved away the moment - when Jesus came!
Thomas was one of the twelve and he just so happened to miss the first visit of the Lord to His disciples. Instantly doubt filled his thoughts as the others told him of their encounter with the resurrected Lord. However, in all His grace, tenderness, and understanding, the Lord came again! This time addressing the needs of Thomas and dispelling the doubt that engrained itself into His heart.
Just one look at the forever living Lord Jesus and all the doubt dissolved away!
Just think of the difference that the coming of the Lord Jesus brought into our lives the day when we understood that we were the guilty sinners for whom Christ died. The day when God put His life into us was the day we became secure in Him forever! Nothing will ever be the same again since the day - when Jesus came and turned the darkness into His glorious light, and turned our vain existence into the potential of living for His honour and pleasure.
O, may we always have hearts that adore this beloved One who is the very joy and delight to His Father. Let us always remember that the babe in the manger became the Christ on the Cross and one day soon is going to be the One who calles each of His people by name away and out from this sad old world into the joy and beauty of His presence. Of course this ties in well with the opening of this blog concerning how life changed for people - when Jesus came. But now we as Gods people are looking for the glorious appearing of our beloved Lord Jesus.

What joy will then fill our hearts the moment - when Jesus comes.

It's not long now you know - it could be ......


♥

I would now like to take the opportunity to wish all visitors a very happy Christmas and that you may either know and rejoice in the promised presence of the Lord in your lives or at last discover your great need of Him, and what He has done in order to provide for you the remedy. In all accounts Christ is the answer.
"Thanks be unto God for his unspeakable gift."
2 Corithians 9: 15

~~~~~
When Jesus Came
Well, would you know, when the world in darkness lay;
Waiting for the day of hope to come.
So long the wait, as the moments turned to years
Underlining fears that God was done -
Done with reaching out to mankind who refused to let Him in -
Suddenly the dark skies turn to day.
And from the heavens - a messenger proclaiming,
And all their tears of sorrow turned to tears of joy,
To hear that God, a Saviour He had sent to them.
Joy came to the world the day - when Jesus came!
Well, would you know, that the Best there's ever been
Lived here in this scene so long ago.
And where He walked folks would never be the same.
A touch from heaven came from Him to show
Just how God can fill their hearts with joy, turn doubt to true belief.
Giving broken lives a brand new start.
And there He was - God's answer to their troubles,
All their tears of sorrow turned to tears of joy,
A faithful Shepherd, great Physician, Saviour, Friend.
Joy came to their lives the day - when Jesus came!
Well, would you know, on a cross and lifted high,
Left alone to die in agony!
But in that hour, when the day time turned to night,
In the dark and out of sight, the victory -
Was won by He who bravely did what others could not do,
So we could have the life He freely gives.
And Jesus lives within the ones who trust Him,
All their tears of sorrow turned to tears of joy.
True is His promise - they will never be all alone.
Joy came to their lives the day - when Jesus came.
And blessed is the hope of all His people,
When all our tears of sorrow will turn to tears of joy.
The day we'll hear His voice from heaven call our name.
Joy will fill our hearts the day - when Jesus comes.
A Song for Christmas 2017
by A le B
Another one for Amanda's Corner @ YouTube
sometime in the not too distant future in the will of the Lord :)
~~~~~
>> Please feel free to leave a comment below - it would be lovely to hear from you ♥