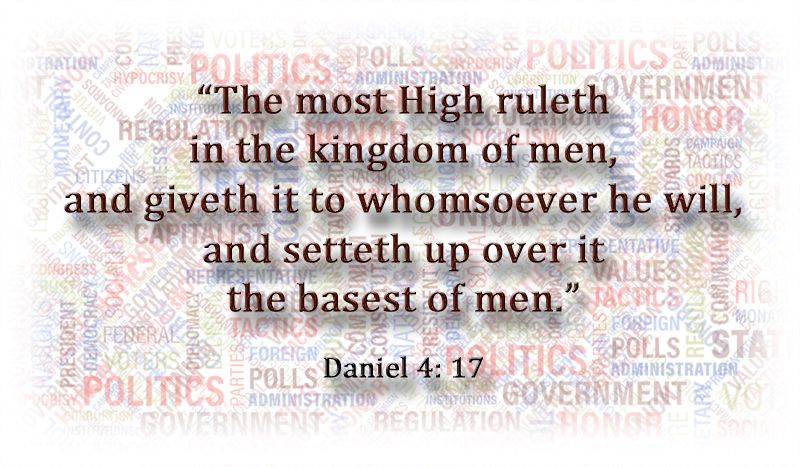 What a pretty unstable few weeks it has been in Governments worldwide! Crazy amounts of unrest set us in a tailspin. Where do we go for stability if our leaders are not the Statesmen they ought to be?
It doesn't matter which country we look at those at the top certainly have something missing! They do not have the living God at the centre of their lives and those who have voted them to their lofty position are quite possibly as Godless as they are!
What a sorry state of affairs we find ourselves in.
Some time ago I had a conversation with someone who couldn't get their head around the fact that I do not vote. He was certainly very bristled about this fact and this usually rather friendly person began to be rather aggressive towards me. As if it was all my fault the government is in the mess it's in!
But I was able to reason with him when I told him that my Man is 'in' already. 'The Hope of all the earth' is on standby with everything under control, ready to show what proper rule is all about.
This raised some curiosity which allowed me to speak of the wonderful Man in whom God finds all His delight.
Many years ago when people were given a choice as to who might reign over them they could choose between Christ, the Son of God or Barabbas - a murderer and a thief!
To me that was a no-brainer. After all, Jesus had demonstrated for the past three and a half years that He was the answer to all the problems that comes upon the human race.
He could heal the untouchable leper

He could give sight to blind people and hearing to the deaf

He could feed and satisfy thousands of hungry people with the meagre provisions of a lad's lunchbox

He could give back to the woman of ill repute her dignity again

And He could liberate those who were tormented with demons

He had control over the elements

He could restore deceased people back to life
Who wouldn't want this kind of Man to be in charge?
They would have been absolutely mad to reject this Man and choose a murderer instead ...
But they did!

So Jesus was given a cross, which was the total sum of what mankind really thought of Him, and Barabbas was set free because Jesus was dying literally in his place.
If that was the end of the account we would all be in a more sorry state than what we are today because we would all have no hope. However, in the midst of the chaos we are witnessing today there shines a ray of hope because man is not going to have the final say.
The Man who was rejected two thousand years ago was accomplishing something on that cruel cross that no one else could do. To all intents and purposes He was the victim of human brutality but something was happening there on the cross which made Him the Victor.
The very thing that causes mankind to make the ridiculous choices they do is the sin for which Christ died. Sin is what separates us from God, and the choices we make drive the wedge deeper.
Common sense ought to prevail, but seeing as it is that common sense comes from God we begin to understand why they of yesteryear chose Barabbas instead of the One with all the answers.
And it also explains why we have such leaders of our lands who don't appear to know what they are doing.
Back then when I looked at the choice of candidates from which to vote in our neck of the woods, I found at the time that three of them had been married more than once, several of the others were in favour of questionable practices, most were in favour of Sunday trading etc. I could go on but needless to say, I wasn't much impressed with the choice we had been given, so I chose not to vote. This I might add is a Biblical stance; for we are not instructed to vote but to pray for those who have the rule over us.
I'm afraid the world is in the state of chaos that it is because of this one thing - the world still doesn't want Christ to reign over them. But joy reigns in the hearts of those who have been touched by Calvary's love and have the sweet Saviour reigning in their lives. We have the joyful anticipation of knowing that our Man is 'in'. He wasn't democratically voted there but He was chosen by God, and one day He will certainly rule the earth power and authority.
Related Link
Poem - The Hope of All the Earth
Save
Save
Save
Save
Save
Save
Save
Save
Save
Save
Save
Save
Save
Save
Save
Save
Save