Since I became a child of God some thirty-seven years ago, there has been a little verse from the Bible beautifully painted onto the wall immediately seen as you enter our Gospel Hall. It has silently borne testimony to the message we are confident to tell to a hopelessly lost world of people among our families, friends and acquaintances, and of course, those who pass by our Gospel Hall every day. This is what it says: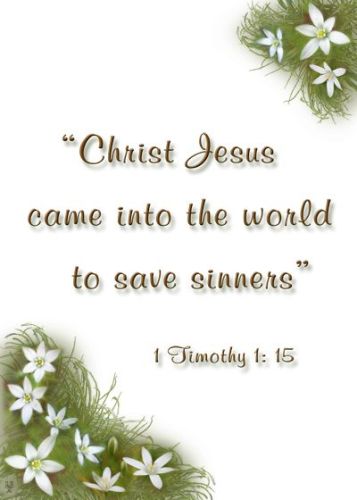 Each Christmas I usually produce all my correspondence, cards, song, etc, on a particular theme. It streamlines all my work and makes life a little easier. I don't know why I never used this verse for Christmas before but I guess now is the time; for there is the real need for people to know and understand the real message behind Christmas.
So, what do these nine simple words tell us?
Firstly it could be easy for us to overlook that the One who came to the dark side of the world that night in which there was 'no room' for Him was none less than God Himself in human form - 'Christ-Jesus'.
Then with a little inspection we will see that He must have existed before He was born as a baby to the young maid in Bethlehem; for 'He came into the world'! He didn't just turn up out of the blue as it were, He 'came', which must mean that there was a place He left and a time in which He did so.
This sounds rather like Someone special with a great mission, doesn't it? And of course the little verse tells us just that:
"He came into the world to save sinners".
How very thankful we can all be for His great mission. If He had come for righteous people there would be no hope for us; for the Bible tells us: "there is none righteous, no not one."! If He came for the purpose of expressing the wonders and perfections of God Himself, we would certainly be captivated but still be in dire need! If He had come for the purpose of chastising and condemning the world as we deserve, we would certainly have no purpose and nothing to look forward to!
But "thanks be unto God for His unspeakable gift". That gift is the Saviour who came to rescue us from the very thing that robbed us of all hope and gave us everything to live for and everything to look forward to when it is our time to leave earth.
All those years ago when I was 'born of God' I was fascinated to know that if I had been the only soul in need of being saved from my sin, He would have gone all the way to Calvary just for me.
May it warm our hearts to know that it was for us as individuals He came. And that means He came for you also!
~~~~~
This year once again I had the privilege and responsibility to sing a solo at our Carol Service and below is an excerpt from my song for Christmas this year, which strangely enough is called "The Reason Why He Came."
"Between the Father and the Son;
A conversation took place long before the world began:
About a distant day to come -
When love supreme would need to be displayed.
But who would go and do this thing?
Straight away the Son responded: "Here am I, send me."
Refrain -
For you, for me the Saviour - our Emmanuel
He came to where we were in all our need.
At Calvary He suffered more than our words could ever tell,
He went that far,
That's because ... we are the reason why He came."

AleB

Special Notice!
This song has recently been recorded :-)
Created for Christmas - to be enjoyed anytime, and I am hoping to make it available for your blessing later on in the New Year. ♥


With every blessing to you and your loved ones at this special season and for the New Year.
Save
Save
Save
Save
Save
Save
Save
Save
Save
Save
Save
Save
Save
Save
Save
Save
Save