Start early! That's fairly good advice most of the time, and especially when it comes to busy times like the Christmas period.
Here in the Le Bail family there's rather a lot to do around this time of the year. Because we have a rather large correspondence list and I like to make most things for the festive season there's a lot more than the average load of work to do to make things nice for everyone ... phew!
If I start early enough everything is intensely enjoyable but if I leave it all a bit late it's easy to feel enveloped with that suffocated feeling. I know all too well that foreboding feeling when the days on the calendar seem to be passing quicker than other days in the year, and the clock appears to go into 'fast forward!' It all needs doing no matter when I start, so for me personally the earlier I start, the better.
But Christmas isn't the only time when an early start makes good sense. Generally, starting each day early makes for a better day all round. Getting an early education gives to a person a better chance rather than waiting until later. Getting the first appointment almost guarantees the best of service.
There are many incidences where we would soon see a benefit if we were to apply an early start, but there's one important thing that is often overlooked to the detriment of the wellbeing of most people all around us. In the Bible we read:
"I love them that love me; and those that seek me early shall find me."
Proverbs 8: 17.
What a wonderful promise this is! Remember, this is God speaking here and He promises that those who seek him first are going to find Him. That means early in life and early in the day. This rather reminds me of another Bible promise:
"Ye shall seek me, and find me, when ye shall search for me with all your heart."
Jeremiah 29: 13.
What a reward indeed for a heartfelt search for the living God! After all who are we that we should be so richly rewarded?
God being who He is, is holy beyond human comprehension and we are utterly undone in all our sin, but He invites us to search for Him more than and before than anything else and the promise of a rich reward is sure to follow.
But what is this reward?
If being personally acquainted with the Mighty Maker of the universes appeals to you then you will not be disappointed, and if knowing without a doubt that all is well with your soul, then this promise is for you.
If being in possession of the peace of God which passes all understanding is what you long for then it's time to make that move in the right direction ... early rather than later, which could be too late!
Remember when the time was right Jesus came to earth, and He came with a mission and a work to do. It was to show what God's personality is like in the way He lived His wonderful life and to demonstrate what God's love is like when He suffered and died on the cross as a substitute for poor lost sinners like ourselves. The timing was perfect, He was in perfect time, which wasn't late!
There is something of great importance for all of us to do and that is to rise up now and draw near to the living God either to come for His provision of forgiveness and salvation or to come and renew a closer walk with Him as He has always desired for you and me.
There is yet another verse in the Bible which underscores what is being communicated here:
"... Without faith it is impossible to please him: for he that cometh to God must believe that he is,
and that he is a rewarder of them that diligently seek him."
Hebrews 11: 5.
Take a careful look at the account of the arrival of the beloved Saviour into this world, and how the shepherds found Him after they searched for Him. What joy and wonderment filled their hearts. The promised Saviour had come at last! And see how later on the wise men were not disappointed after travelling for many months across the country to find Him. They would never be the same again!
Why wait for January 1st to arrive to make a fresh start - when you can start this moment. You will be eternally glad you did.
~~~~~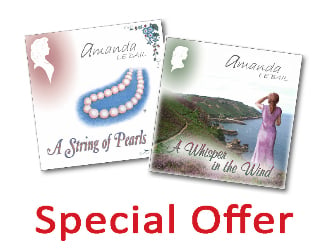 A seasonal gift for someone you love.

Offer applies until the end of December.
Save
Save
Save
Save
Save
Save
Save
Save
Save
Save
Save
Save
Save
Save
Save
Save
Save
Save
Save
Save
Save
Save
Save
Save