While spending a week in the north east of England visiting our family, we were invited out by friends for a meal and a walk through the old and original part of Hartlepool where we were staying.
It was very much more picturesque than I had expected and some interesting things were highlighted during our walk.
John Wesley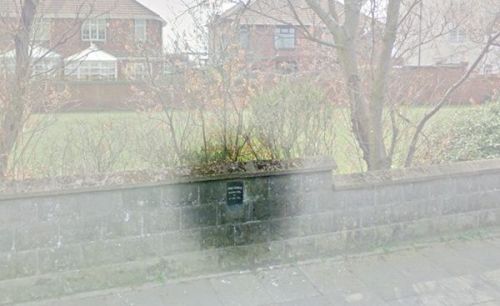 We passed a little plaque on a wall marking the place where John Wesley once preached over two hundred and fifty years ago, back in the days when the good news gospel message would have been preached to a crowd of interested people. Some of whom would have responded favourably and are in heaven today for sure.
I wondered if someone were to preach the same message with the same fervour in the very same place how many would receive the message with gladness today?
The message that changed the lives and destinies of people back then can do the same for folks today. Those who long for peace with God and the promise of a home in heaven must begin with the right response to this message, which, by the way happens to be the very same message that the Apostles preached back in the days just after the Lord Jesus died, rose again and was received back into heaven from whence He came.
The Gospel message is all about the reason why He came in the first place. The Bible tells us that He "came into the world to save sinners." 1 Timothy 1: 15. And He came because the Father sent Him! (See 1 John 4: 14.) He saw a world of guilty sinners in need and came to the rescue with an amazing Salvation plan. No one else could have thought of such a plan like this. It involved the death by crucifixion of His beloved Son who came to die on the cross in our place as our substitute, paying the price our sin deserved!
Why would God do a thing like that? All because of love, supreme love which is best expressed in these 25 beautiful words from the Bible:

"For God so loved the world, that he gave his only begotten Son,
that whosoever believeth in him should not perish, but have everlasting life."
John 3: 16.
God has expressed His great love, and done all the work that needs to be done. But we have the responsibility to respond favourably to God's offer of Salvation, and repent from the sin that separates us from God, trusting solely in Him ... or perish!
Everyone in heaven today is there because they did just that and for no other reason. How about you, what will you do?
Mizpah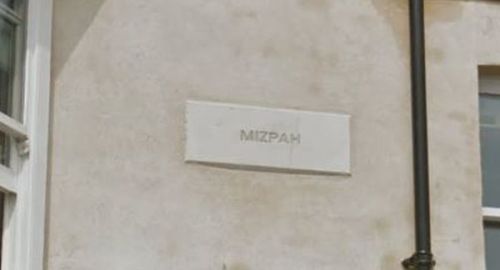 As we moved on we saw a single word etched into the rendering on the front of a house looking out to sea. That one word was "Mizpah", which is a word that appears in the Bible. It means "God watch between me and thee whilst we are absent one from another." Genesis 31: 49. These words have often been used in endearing terms between loved ones who are separated for a while and is in fact a favourite of my Mum's for that very reason.
Separation is a painful thing between absent loved ones and even more heartbreaking between us and the living God, but when we become one of His people by faith in His beloved Son we have a direct line of communication with Him. How wonderful! However, in a sense we are still separated from Him because we live on earth and God is in heaven. We have never seen Him before but have the blessed hope in our souls that we will do one day soon.
Until the day when we shall be with Him and see His blessed face we are phisically absent from the One who loved us and gave Himself for us. We have a longing to be with Him which is far better but we remain to live out our lives in preferred faithfulness to Him. And while we do, God watches between us and Himself. What a comfort it is to know that we are never alone.
Look Up!

Towards the end of our walk our friend expressed his great interest in the history of places like old Hartlepool and said something very interesting which is in fact the inspiration behind the thoughts conveyed here today.
He said: "if you walk looking at the ground or straight ahead you'll miss it - you have to 'look up' and you'll see things that others will miss." And he was right you know: at eye level the buildings had been altered with the passing of time but above eye level where no one often looks you see all sorts of unaltered parts of buildings that are probably original features.
There's one thing for sure, when we are going through trials we will not find a satisfying answer to our need anywhere else than in the Lord Himself. We must have an upward look at all times if ever we would walk in wisdom. The Lord who has never altered in the slightest is the One upon whom we can safely rely. The moment we try on our own we leave ourselves open to failure.
But there is another type of 'looking up' every believer ought to be occupied with. That is the gladsome anticipation of the promised coming of the Lord Jesus who is going to come one soon day for His people to take them and us to be with Him where He is ... Forever!
"Look up" are faithful words encouraging everyone that no matter where you are, no matter what you've done there is a Saviour for lost sinners. "Look up" are comforting words for every believer; for there is coming a day very soon when faith will give way to sight and every sorrow we know here will be gone forever.
Therefore dear soul, whoever you are - Look Up - and you will not be disappointed!
"I will lift up mine eyes unto the hills, from whence cometh my help.
My help cometh from the LORD, which made heaven and earth."
Psalm 121: 1-2
~~~~~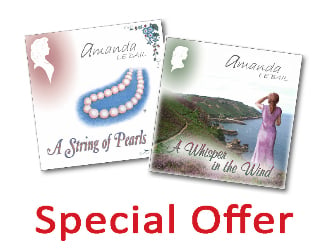 A seasonal gift for someone you love.

Offer applies until the end of December.
Save
Save
Save
Save
Save
Save
Save
Save
Save
Save
Save
Save
Save
Save
Save
Save
Save
Save
Save