I work for some rather lovely people you know! When I'm not writing things for Rest a While or composing music and songs etc, I do a little bit of domestic work to help make ends meet. It is work I rather like doing not only because it 'makes things better' but because I work for the most part when everyone's out, I have a lot of time on my own to think, pray and even write a few thoughts every now and then. While I'm busy with my hands I'm usually creative with my mind, so this is the perfect type of work for me :-)
While busy at work in the home of someone I've been working for a long while I was just about to engage my thoughts when they were interrupted by my friend / employer: 'It's a lovely day Amanda, take a bit of time out and enjoy the garden,' she said. I hesitated a bit before I said to her that I might take 10 minutes out and do just that, upon which she smiled with approval before leaving for the rest of the morning.
I got to a point when most of my duties were done and I was feeling ready for my walk in the garden. I stepped out into the sunshine and began to walk down through the tailored garden into an orchard and beyond into a semi wild area where a bench was strategically situated under overhanging trees looking back towards the house. It was lovely :-)
I sat taking in a deep breath of fresh autumnal air and listened to the sounds around me and taking in the incredible view. Ripe crab apples clung to the branches of the smaller trees I passed earlier. Leaves were already beginning to colour the freshly cut grass and a robin made an appearance every now and then. An old limp black hen was foraging through the undergrowth looking for 'treats'.
I was secretly thrilled in my heart to know that no one but God knew I was there!
I couldn't be seen or overlooked by a single soul except the wildlife close by. It was wonderful, and I can't remember the last time I felt such a feeling of almost excitement and pure joy. I could have stayed there for an hour or more, but I only had a few minutes before it was time to return and finish my work. But there was something about that unexpected moment of time out that did my soul so much good I'm still living in the good of it even as I write.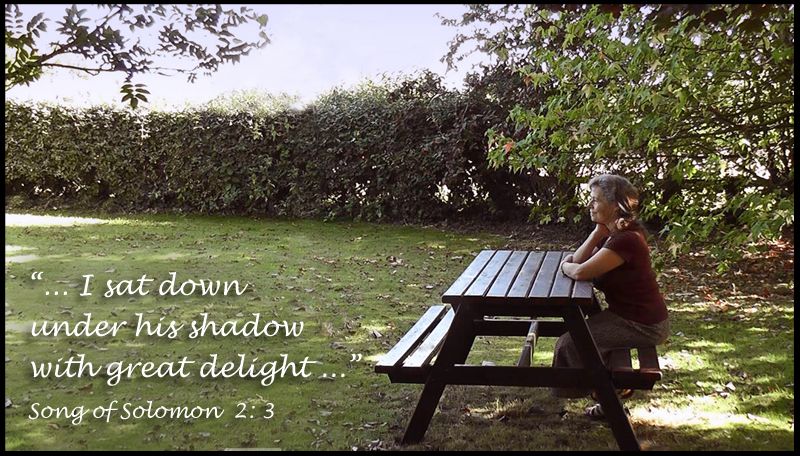 Most of us work for a holiday and well deserved rest once a year for a week or two. But I was reminded today of how important it is to take mini vacations away from the hustle and bustle and get alone with God.
Sitting there amidst all this natural beauty reminded me of a beautiful verse in the Bible that says:
"As the apple tree among the trees of the wood, so is my beloved among the sons.
I sat down under his shadow with great delight, and his fruit was sweet to my taste."
Song of Solomon 2: 3
What a picture of absolute delight and contentment. A woman's description of the love of her life and a very fitting description of my beloved Lord and Saviour.
There is something about Him that is so very different from among all others. His wonderful ways and words display before us the character of this lovely Man. Everything about Him is so precious, even to His inmost thoughts! If we ever wanted to know what God is really like all we have to do is take a good look at this lovely Man because the Bible tells us that:
"God ... hath in these last days spoken unto us by his Son,
whom he hath appointed heir of all things, by whom also he made the worlds;
Who being the brightness of his glory, and the express image of his person
and upholding all things by the word of his power,
when he had by himself purged our sins,
sat down on the right hand of the Majesty on high."
Hebrews 1: 2-3
Here we have in these verses something quite profound. They not only tell us Jesus is the expression of what God like in person but they tell us clearly that when Jesus died on the cross this was the expression of what God's love is like in all its fullness!
If we were to continue to read we would soon discover that He is better in every way. Better than all mankind. Better than all angelic beings. Better than the very best and greater than the greatest that has ever lived!
Just like the woman describing her beloved one, so it is that every one trusting fully in the lover of our souls will find all that He gives is sweet and satisfying.
Who wouldn't want to be closely acquainted with such a one as this?

Well, it seemed like a moment of time before my ten minutes was up and I rose to finish my work. Just a few precious minutes to refresh my soul.
Perhaps you might take a little time out to discover something of great value to your soul as well. Remember, Jesus saves and satisfies all those who are prepared to 'rest under His shadow', and trust in Him fully.
Just ten minutes well spent in the presence of God may very well change your life forever.
Save
Save
Save
Save
Save
Save
Save
Save