The Best Type of Rest
Posted on
We have just enjoyed a week's break and a whole week of beautiful sunshine in which we have walked, picnicked, sat, read and dined.
I can't remember the last time we had a holiday at home when we didn't have unpleasant weather, but this time it was perfect :-)
We have been so much in need of some quiet and rest and actually got it this time that I feel very humbled at the care and kindness of the Lord who so graciously ministered to our needs.
In fact, it's been so lovely, I think we could have done with another week for good measure. Never mind, it was very good while it lasted and very much appreciated.
On the last day of our 'staycation' we spent a while at one of my favourite places on the Island. It is a reservoir that has been beautifully landscaped all the way around providing a long country walk under overhanging trees filled with chattering birds. The waters, which are a little down due to dry weather glistened in the sun and provided a cool place for the larger birds to bath and paddle for a while.
Dotted along the walk are benches positioned strategically where the view is best. Each one has been dedicated to someone who has appreciated the beauty of this place when they were alive.
I sat for a few moments on one of them and enjoyed the view, the warmth of the sun, and the rest. Just before we moved off I took a moment to read the dedication, which to my great surprise read as follows: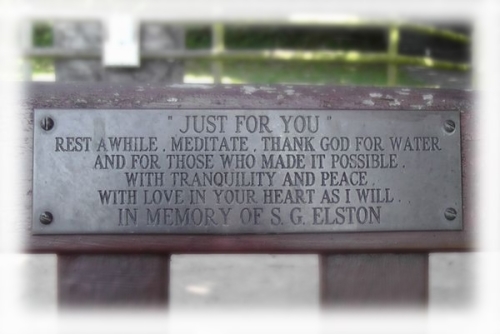 I had to take a picture of this dedication for I loved the sentiment: 'Just for you, Rest a While, Meditate, With Tranquillity and Peace, Thank God ...' This rather reminds me of my little corner of the Internet.
When Rest a While website was first launched over six years ago this was its value statement: 'Words in Season, Just for You'. Short, simple and straight to the point. Rest a While was (and still is) created to provide something just right for you and your need, whatever that need might be.
Now of course the website has undergone changes to meet the demanding and changing trends in browsing the Internet and changing technology, but its content is still the same. It offers the same timeless content to give help, encouragement, comfort, and hope to all who come to visit. It now has a new value statement which emphasises the fact that the message of hope it communicates has the ability to not only enhance your life but secure your destiny! This is the reason why -
It points you to the One who never changes and is always ready to receive a genuine soul in search for the truth.
"[Jesus] said unto them,
Come ye yourselves apart into a desert place,
and rest a while: for there were many coming and going ..."
Mark 6: 31
"Come unto me, all ye that labour and are heavy laden, and I will give you rest.
Take my yoke upon you, and learn of me; for I am meek and lowly in heart: and ye shall find rest unto your souls.
For my yoke is easy, and my burden is light."
Matthew 11: 28-30
The world around us, including ourselves, is rushing to and fro. Everyone has opinions and ideas about what they feel is the satisfying life but if we are seeking the satisfaction our heart craves for, we will never find it apart from the Lord Jesus Himself.
The only place where we are going to find true rest is where God finds rest.
His rest is the type of rest we need, and He rests in a work that is finished. There is nothing we can do to contribute to this work - it is already done!
The unease we experience is due to the fact that sin has separated us from Him who is holy. And the work that Jesus accomplished on the cross has removed that separation from all who truly turn away from their sin and trust fully in Him.
The little bench plaque mentioned "Thank God for water, and for those who made it possible. With tranquillity and peace. With love in your heart ..." I am reminded of the words of the Lord Jesus who said:
"If any man thirst, let him come unto me, and drink."
John 7: 37
How many of us have been found hungering and thirsting after that which is good, wholesome and satisfying? Well, here is the answer to all those longings - It is the Lord Himself!
Jesus said:
"If thou knewest the gift of God, and who it is that saith to thee, Give me to drink;
thou wouldest have asked of him, and he would have given thee living water."
John 4: 10
Wouldn't it be a thing most wonderful if you found yourself in possession of a heart full of thankfulness for water that quenches the thirst of the soul, and for the One who has made this possible. The Gift and the Giver!

O, that you might find it in your heart to bless God: for while there is still breath in your lungs and while your heart is still beating, there is hope. While you are still alive each day, there is hope. Don't waste a precious moment, come at His invitation away from the din and distraction, come to Him with your thirsty and weary soul and trust in the work in which He rests, and see what He will do. His promise is as good as His person, He cannot lie, and to all who come in true repentance and sincerity He says: "I will give you rest."
Rest a While
Bringing to you the truths of the Bible and the message of hope it contains home to your heart -
Enhancing your life - Securing your destiny!
---
'Precious Promises' is a FREE eBook -
a gift for you when you sign up for Rest a While's newsletter
Save
Save
Save
Save
Save
Save
Save
Save
Save