A Season of Love
Posted on
Valentine's Day is almost upon us - a Season of Love!
This year being a 'leap year' traditionally gives to the ladies the opportunity to proposed to their loved ones and I trust that no one will be disappointed with the reply and all that there is to follow <3
Love is indeed a very special thing. It has so many facets depending upon the way we see it.
The love of a parent for their child

There is the precious love between parents and their children and this is so beautifully modelled for us in the Bible when we think of Abraham and his beloved Son who was promised to him by God. One day he was asked by God to offer him up as a burnt offering! What a tremendous thing God was asking of Abraham, and yet we never read of him striving with God about this issue. Instead we are told that he rose up early with all that he would need, a few servants and his beloved son, and off they went on a three day journey until they saw afar off where the sacrifice was to take place.
From there on only father and son proceeded until they reached the place. Abraham believed the promise that God made to him about the future of his son and knew that somehow everything would work out good in the end. God would have to raise Isaac from the dead if necessary.
There they were at an alter he made for the purpose. Picture this moment - his son bound and laid on the altar, the knife raised and Abraham is ready to make his offering! Suddenly the voice of God calls to him to do the lad no harm. Isaac is spared and a ram caught in the bush by its horns is used as a substitute.
Did God really want the life of Abraham's son? Of course not. It was Abraham's heart he wanted and the love for his God was proved there at the very place where sometime in the future another Son was to be offered. This was to be the Son of God. This time there was no substitute for Him because He was there as our Substitute and bearing in His body the punishment against our sin.
The love between kindred spirits

There is also the love between siblings and a similar love in close friendships. My mind goes back to the Bible account of the friendship between David who was to be King and Jonathon who humanly speaking was the actual heir to the throne. Theirs was a kindred spirit, which is somewhat of a rarity nowadays.
Jonathon's love for David was one that was hard to excel. He described it in his lament for his deceased friend as a love that surpassed the love of women! In his short life he admired David, looked up to him and was loyal to the end even though this greatly angered his raging father. Unlike Saul, Jonathon's father, David was a man of God and described by God as 'a man after my own heart'.
Although the love between these kindred spirits was precious, both were at best only human and even David the man of God knew what it was like to fail his God miserably.
One day there would walk on this earth a Man who was God's true Man who was totally incapable of sinning. His wonderful life from beginning to end brought total satisfaction to His Father. He desires all who trust in Him to follow Him closely, with great admiration and loyalty.
The love of God

But when we think of love, could there be a greater love the true and pure love between a man and a woman? There's nothing he will not do for her and there's nothing she will not do for him!
I remember hearing my mother in law's secret to a long and happy marriage with her husband of 53 years. She said that: "I always put my husband first, and he always put me first. If you want a long and happy marriage, then this is the recipe for success."
It is easy to understand why this love works because their feelings for each other are mutual. But what if this is not the case? The love between a man and a woman is very powerful but the love of God is infinitely greater!
There is nothing in us that is desirable to God because He is holy and we are sinful. But He loves us even though we are undesirable! How can this be? It is because the love of God does not operate like human love does. God is merciful and out of grace He -

"Commendeth his love toward us, in that, while we were yet sinners, Christ died for us."
Romans 5: 8
This is an amazing demonstration of love that cannot be surpassed by anyone ever!
What should be our response to such love and mercy? We should in true repentance of the sin for which He suffered bow the knee and acknowledge Him as Lord and Saviour, and sincerely thank Him for the cleansing and forgiveness He offers freely. Then rise up to walk in the new life He has promised to give to who trust Him fully. This is just the beginning - the best is yet to come!
What a wonderful time of the year in which to appreciate His amazing love. While others soon may be all caught up with a season of love that will quickly pass - the love of our true Valentine is eternal and we can live in the good of His amazing love every day of our lives continuing on into eternal ages.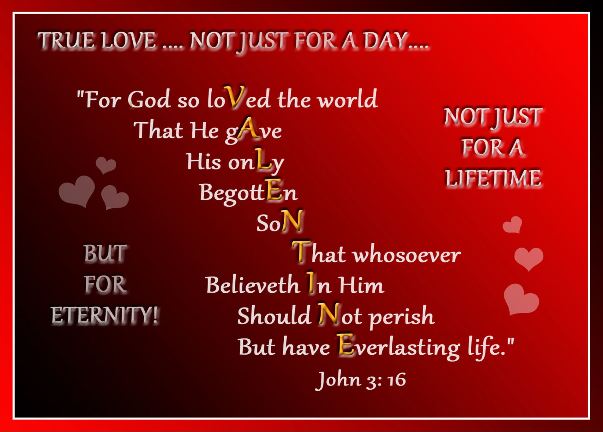 The above picture is also a link to a pdf file which you are invited to download for your personal use.

Get a little message of hope in your inbox each month
along with other news about Rest a While which may be of interest to you.
Save