Precious Promises

"God is not a man, that he should lie; neither the son of man,
that he should repent: hath he said, and shall he not do it?
or hath he spoken, and shall he not make it good?"
Numbers 23: 19

When God makes a promise He will always keep it because He cannot lie. The Bible is full of precious promises to encourage, strengthen and cheer your heart no matter your circumstances.
These images along with the promises are already being enjoyed in our Facebook page, and are now published here for the benefit of those who do not have an account with Facebook.
Important Notice:
A FREE eBook called 'Precious Promises' is currently available to those who would like to sign up for Rest a While's monthly newsletter. Please feel free to click here to find out more information.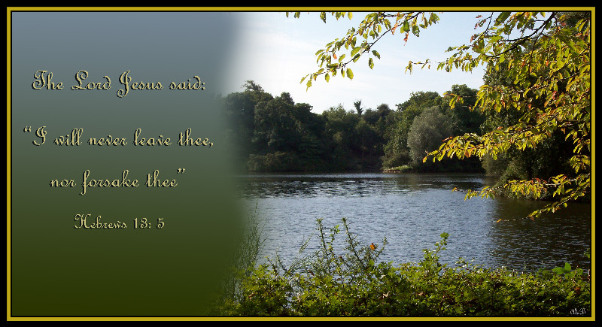 "I will never leave thee, nor forsake thee."
Hebrews 13: 5


"Surely goodness and mercy shall follow me all the days of my life:
and I will dwell in the house of the LORD for ever."
Psalm 23: 6

God loves us too much to ever take His eyes off of us and to ever leave us alone for even a second!


"The LORD said unto Abraham … Is anything too hard for the Lord?
At the time appointed I will return unto thee, according to the time of life,
and Sarah shall have a son."
Genesis 18: 13-14

This promise teaches valuable lessons.
First, God asked a question that was actually a statement.
"There is nothing too hard for God".
We must begin by believing that with all our heart.
Then, notice that God works "at the time appointed",
which means He works on His schedule, not ours. Abraham would have to wait.
But the next words are, "I will" and God's Word never fails.
We have many promises from God.
He will keep them all "at the time appointed."
Ken Gross


Those of us who have accepted God's provision for our souls
through faith in His beloved Son who died for our sin,
who was buried and rose again are saved for time and for eternity.
No one can ever take our security away; for it is eternal.
We're in His hands – forever!


"One God and Father of all, who is above all, and through all, and in you all."
Ephesians 4: 6
"... Christ in you, the hope of glory."
Colossians 1: 27
"If ye love me, keep my commandments.
And I will pray the Father, and he shall give you another Comforter,
that he may abide with you for ever."
John 14: 15-16
None other than God the Father, His beloved Son and gracious Holy Spirit
have taken up residence in the lives of all who are true believers.
What absolute comfort and assurance should be ours
when we consider this promise:"
I will never leave thee, nor forsake thee."
Hebrews 13: 5


"Fear thou not; for I am with thee:
be not dismayed; for I am thy God:
I will strengthen thee; yea, I will help thee; yea,
I will uphold thee with the right hand of my righteousness."
Isaiah 41: 10

Five promises all in one especially for those who are facing a great trial and feeling all alone.
This promise was given to me for my baptism
and God has proved Himself to be true to His gracious words on many occasions.
Faithful is He that promised and His promises we can trust; for God cannot lie.


"Thou wilt keep him in perfect peace,
whose mind is stayed on thee:
because he trusteth in thee."
Isaiah 26: 3

Like a river glorious, is God's perfect peace,
Over all victorious, in its bright increase;
Perfect, yet it floweth, fuller every day,
Perfect, yet it groweth, deeper all the way.
Refrain
Stayed upon Jehovah, hearts are fully blest
Finding, as He promised, perfect peace and rest.
Hidden in the hollow of His blessed hand,
Never foe can follow, never traitor stand;
Not a surge of worry, not a shade of care,
Not a blast of hurry touch the spirit there.
Refrain
Every joy or trial falleth from above,
Traced upon our dial by the Sun of Love;
We may trust Him fully all for us to do.
They who trust Him wholly find Him wholly true.
Refrain

Frances R. Havergal


A fourfold precious promise to last a life time
from beginning to end.


"My soul, wait thou only upon God; for my expectation is from him.
He only is my rock and my salvation: he is my defence; I shall not be moved.
In God is my salvation and my glory:
the rock of my strength, and my refuge, is in God."
Psalm 62: 5-7


"Without faith it is impossible to please him:
for he that cometh to God must believe that he is,
and that he is a rewarder of them that diligently seek him."
Hebrews 11: 6